Activists of the extremist political group Rashtrawadi Shiv Sena burned a poster of the unreleased movie "Ralmleela" during a protest at Jantar Mantar in New Delhi, India on September 22, 2013.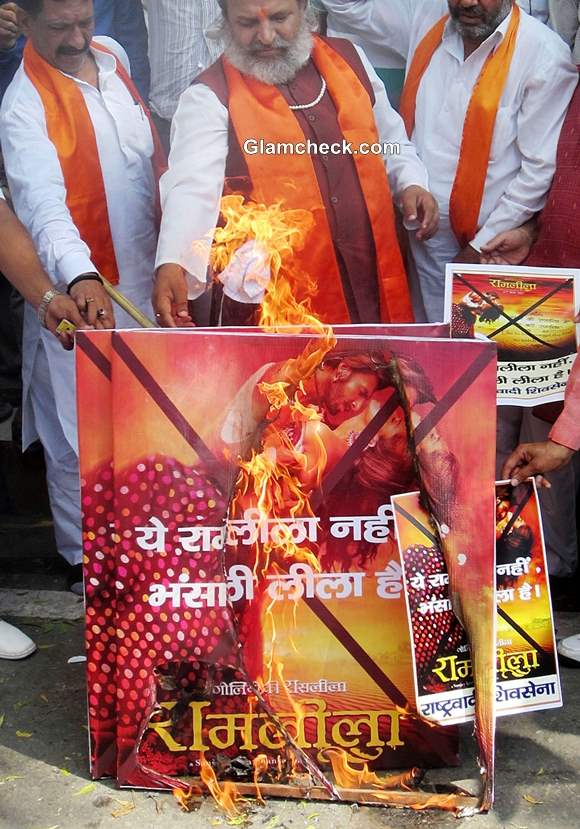 Will Ram Leela be Banned
According to activists, the word Ramleela hurts the religious sentiments of the Hindu people when emblazoned across a poster of the lead actors Ranveer Singh and Deepika Padukone in a passionate embrace. They also claim that the 'bold' images on the posters are saying yes to vulgarity.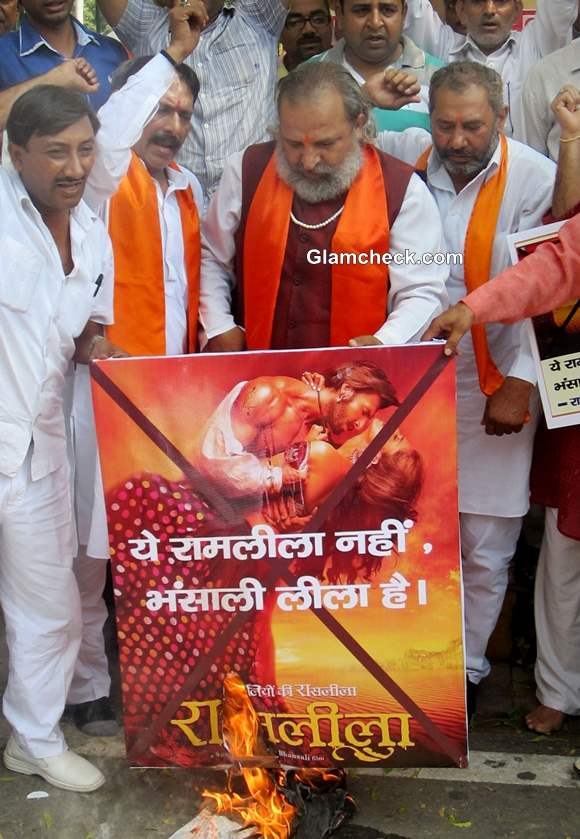 Ram Leela Movie Posters Burnt
The original story of Ramlila is a revered on in Hindu culture. The movie Ramleela makes no pretensions to being religious at all. It is simply a modern-day Indian take on Shakespeare's tragic love story Romeo & Juliet, set amidst troubled times. The title Ramleela is a combination of the first names of the star-struck lovers Ram and Leela and has nothing whatsoever to do with the Ramlila of the epics.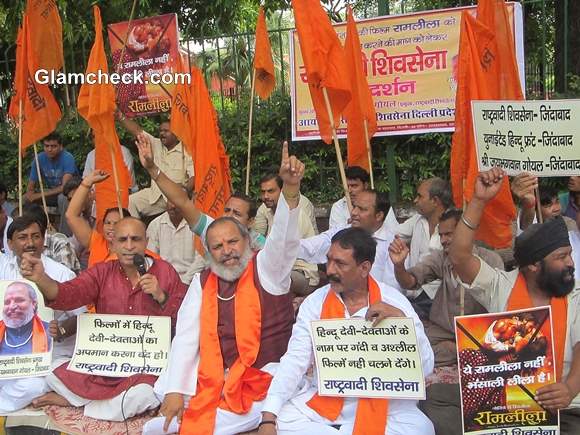 Rashtrawadi Shiv Sena burned  Ralmleela movie
The Rashtrawadi Shiv Sena argue that film-maker Sanjay Leela Bhansali should not be exploiting the name for entertainment. The activists are demanding that the film be banned from release unless the title is changed.
A Jaipur court asked protestors to file a First Information Report at a police station so that the case could be officially investigated and matters taken further. Advocate Pawan Sharma has done so against Bhansali and the film's leading couple.
There has been no comment from the Bhansali camp as yet.
Ramleela is supposed to premiere on November 15 but there's no saying whether or not that will go ahead as planned. 
Solaris Images