Bollywood actor Raveena Tandon launched the new collection entitled 'Colors' by Waman Hari Pethe Jewellers in Mumbai, India on October 10, 2013. Accompanying her at the launch was Aditya Pethe, the chairman of the company, and his wife Sonali Pethe.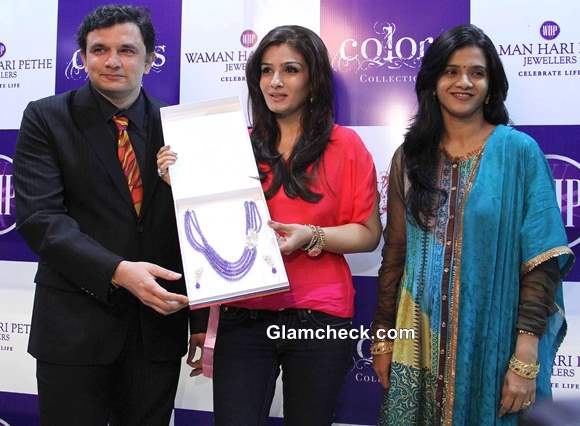 Raveena Tandon at Waman Hari Pethe Jewellers Colors Collection Launch
Raveena went casual in dark blue jeans and a loose-fitting pink top, rounding of the ensemble with a pair of silver platform heels. The pink is a good color on her, making her look feminine, youthful, soft and happy.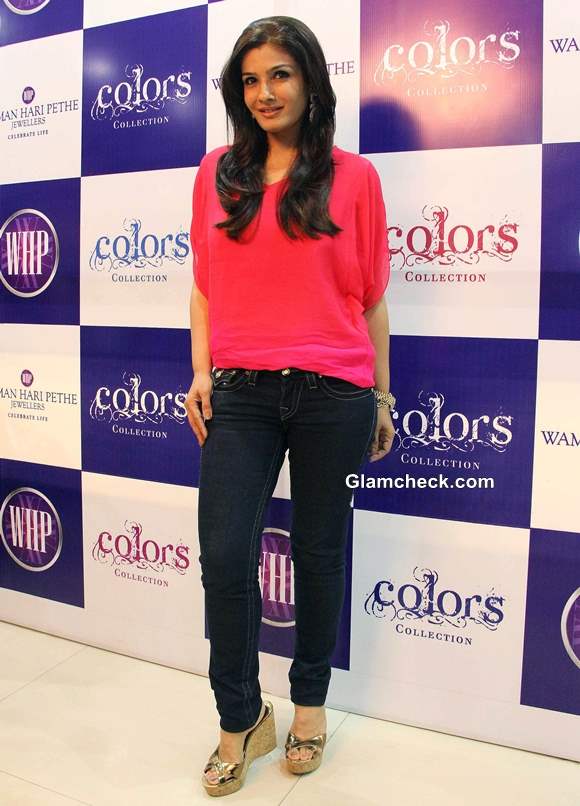 Raveena Tandon in pink and black
Her outfit was accessorized with jewellery from the new collection – mainly rubies to go with her pink top. She sported diamond and ruby dangle earrings, a necklace made of multiple strings of rubies, and a few gold bracelets on one wrist.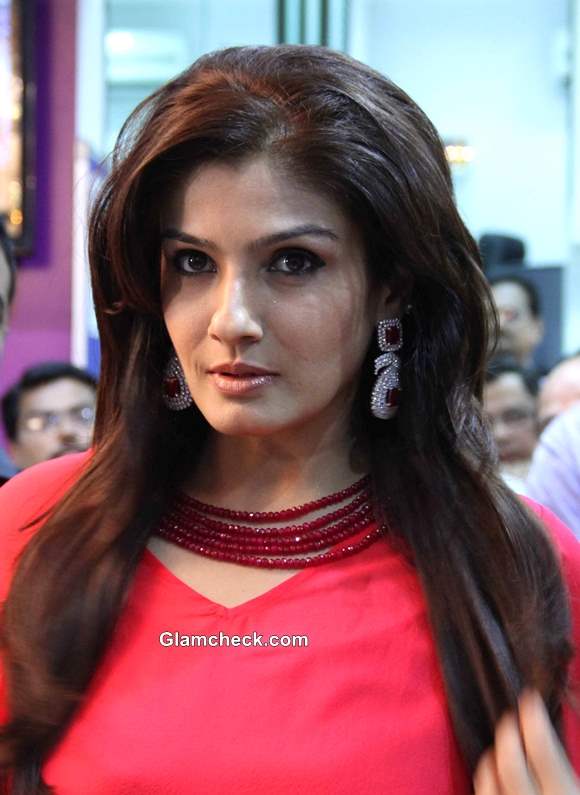 Raveena Tandon 2013 pictures
Her makeup, although neutral, was defining with its close-to-natural lip color and delicately lined peepers. Her side-parted, wavy hairdo offered the perfect finishing touch for this outfit.
Raveena looked both cool and hot at the same time. There are few actresses today who exude as much charm and grace as she does and in such a casual ensemble at that.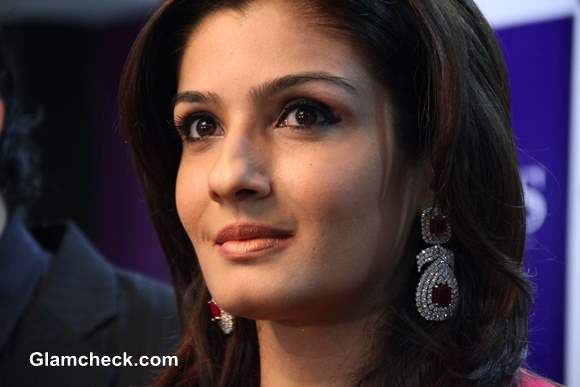 Raveena Tandon 2013 pics
Last seen in Buddha Hoga Tera Baap, Raveena will next play the role of a jazz singer in Bombay Velevet alongside current Bollywood favourites Anushka Sharma and Ranbir Kapoor. The film is being called her comeback, a term that Raveena finds funny because, she says, she never really took a break from the camera. The mother-of-four has always been working whether it is doing endorsements or stints on reality shows.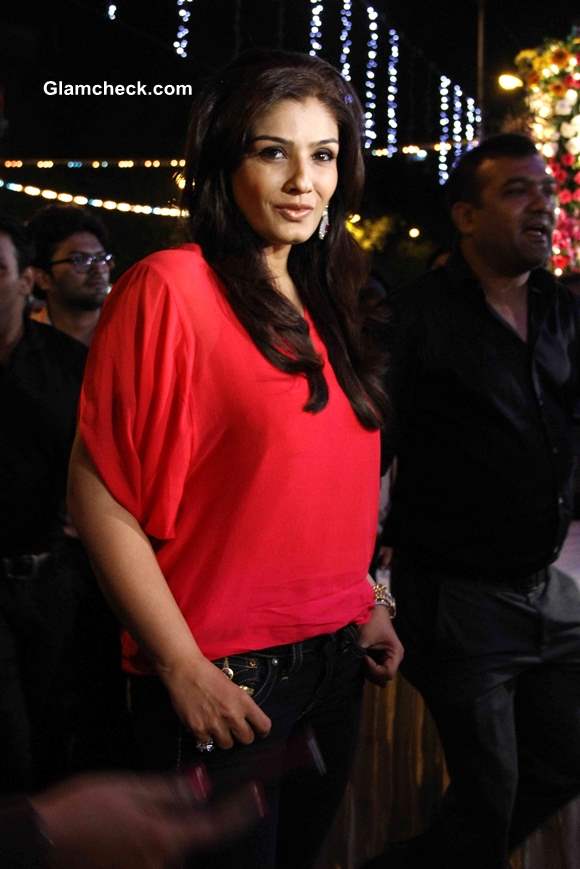 Raveena Tandon Launches Waman Hari Pethe Jewellers' Colors Collection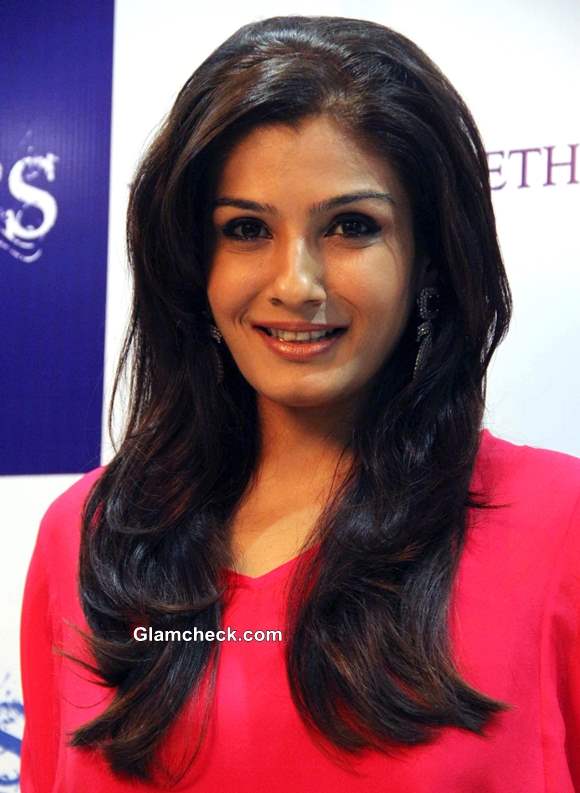 Raveena Tandon at 2013 Waman Hari Pethe Jewellers' Colors Collection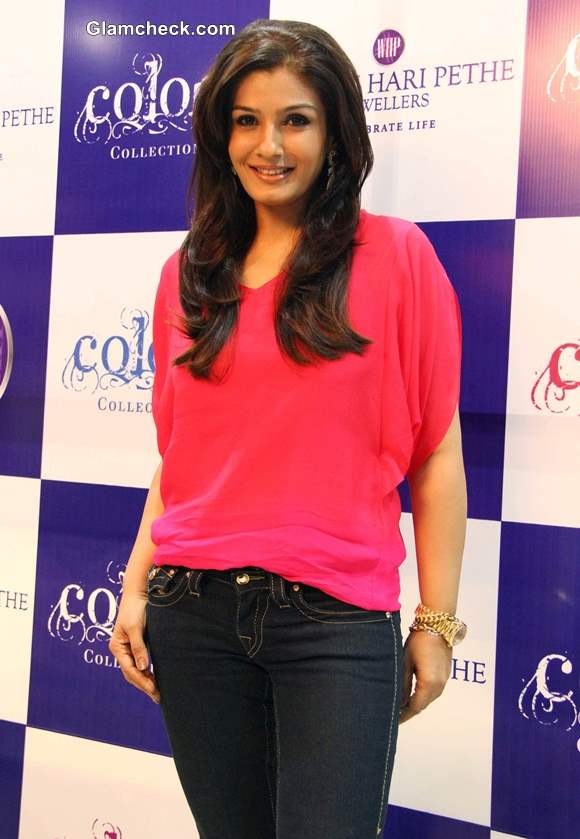 Raveena Tandon in black and pink at  Waman Hari Pethe Jewellers Colors Collection launch
Solaris Images