Bollywood actress Priyanka Chopra inaugurated the Healthcare Global Enterprises Comprehensive Cancer Centre at the Nanavati Hospital in Mumbai, India on October 21, 2013. This new facility provides the technology and infrastructure that are necessary tools for fighting cancer.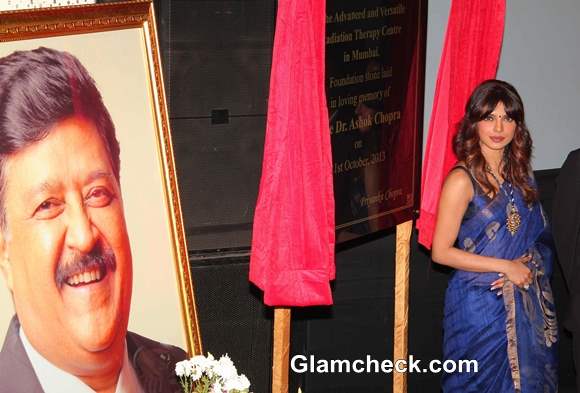 Priyanka Chopra Inaugurates Cancer Ward in Late Father's Memory
Priyanka went with a very simple look for the inauguration, choosing a plain blue sari with a plain blue sleeveless blouse. She accessorised with a statement necklace and finger rings, both giving her the quintessential traditional vibe.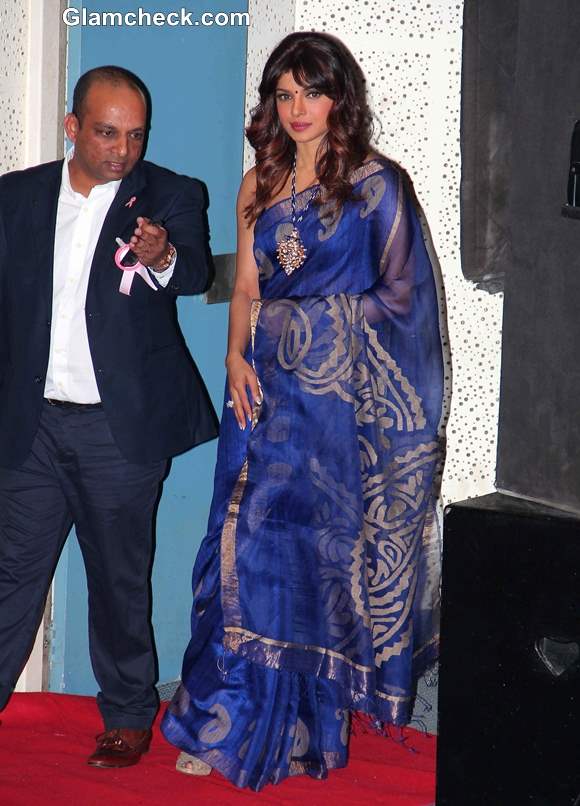 Priyanka Chopra at Cancer Ward Inauguration
Her styling of the look consisted of her favourite pink lippie, a small red bindi, thick eye liner on the upper eye lid and loose curls from a middle parting. She looked sweet and was obviously not trying to make a fashion statement here but was just being there for her father and to help the cause.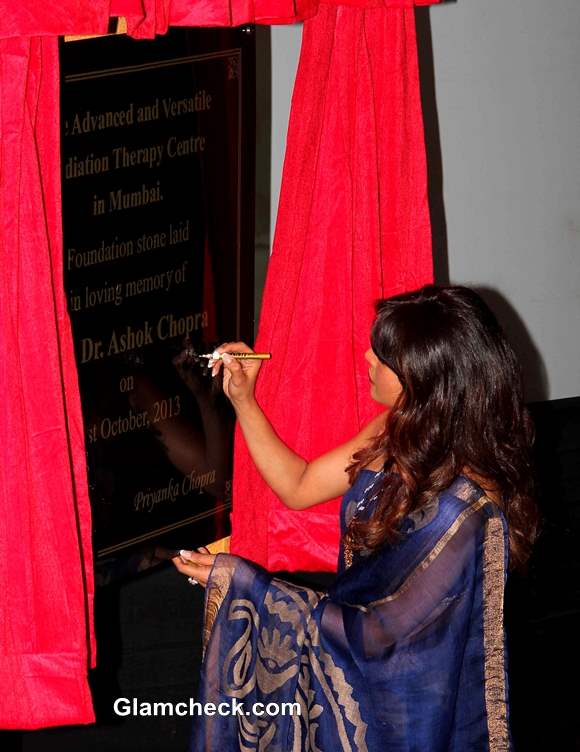 Priyanka Chopra Inaugurates Cancer Ward 2013  in Late Father's Memory
The new cancer ward is in memory of her late father Ashok Chopra who passed away just a few months ago. Priyanka donated Rs. 50 lakh to make this project possible. Reports state that she ditched a promotion of her upcoming film Krrish 3 to be at this event.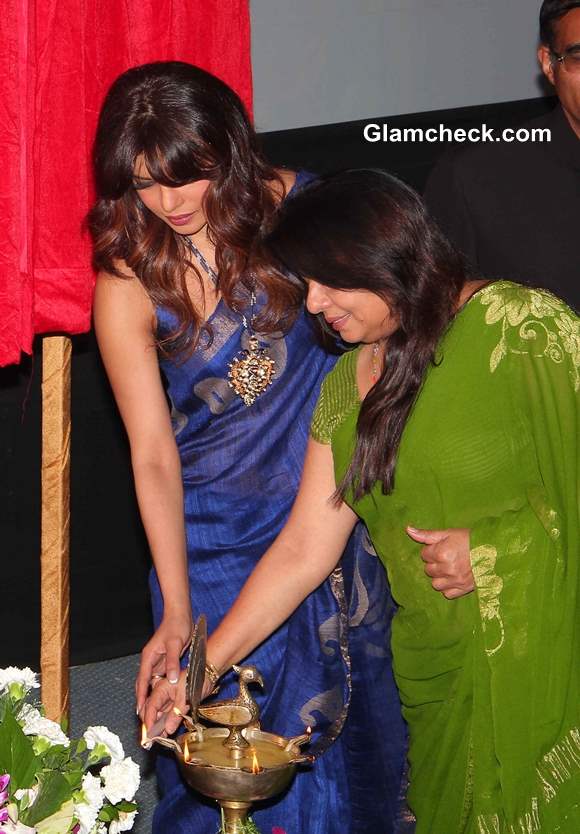 Priyanka Chopra with her mother Inaugurates Cancer Ward in Late Father's Memory
She was in tears as she talked to the press, explaining that the cause was very special to her as her own father had died of cancer. Her mother was at the do as well, and she too got emotional as she watched her daughter unveil the cancer ward.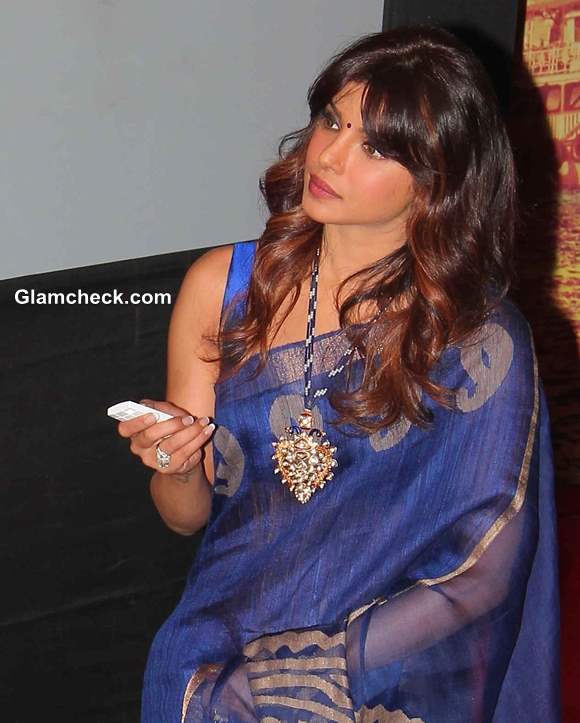 Priyanka Chopra Inaugurates Cancer Ward
Priyanka commended Health Care Global Enterprises (HCG) for making cancer care both affordable and more easily accessible to those who need it. HCG holds the record for having the most comprehensive cancer care network in Asia with twenty seven centers located across the continent.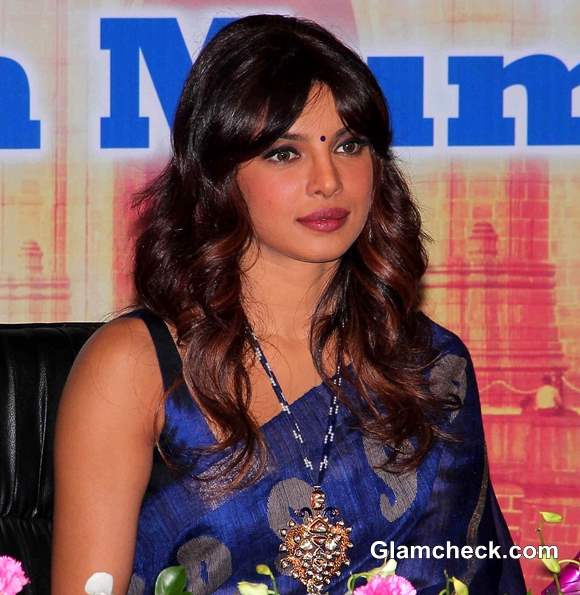 Priyanka Chopra Inaugurates Cancer Ward in Fathers Memory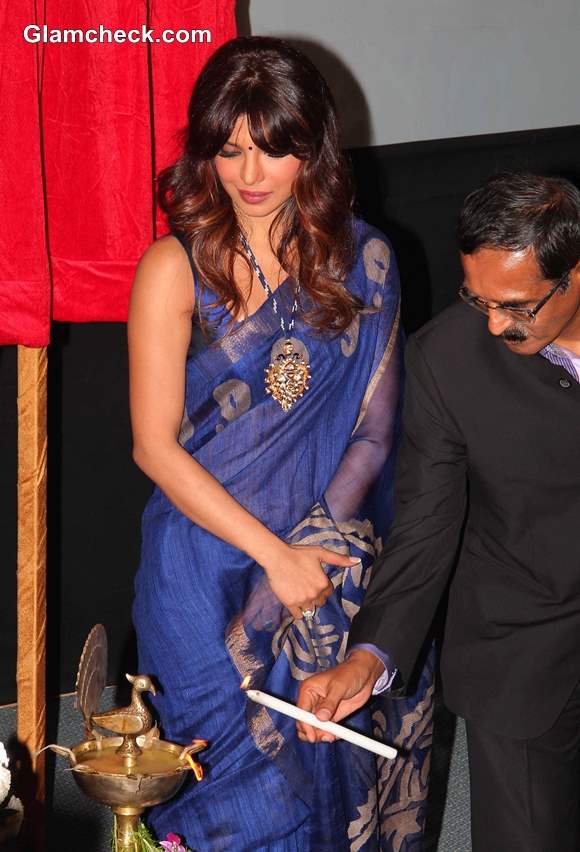 Priyanka Chopra 2013 pictures in sari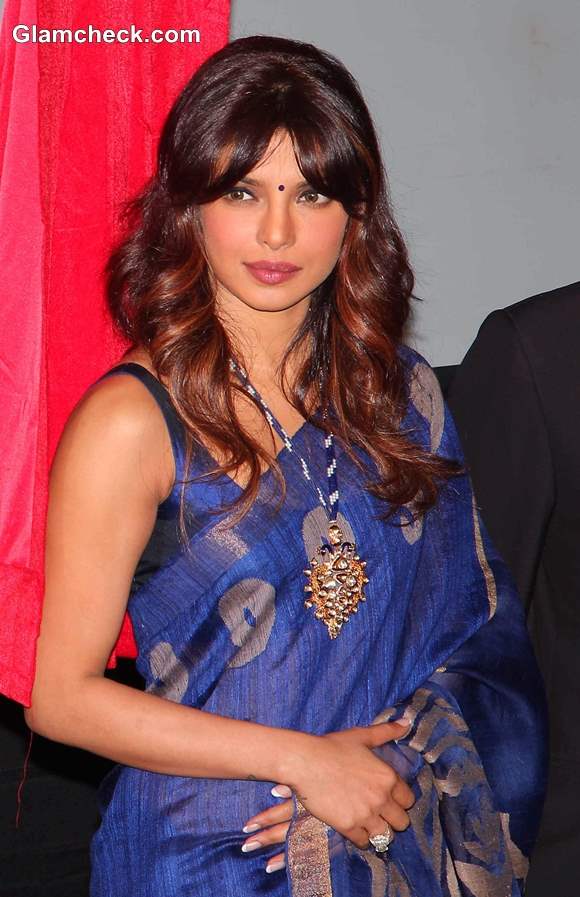 Priyanka Chopra in Sari Inaugurates Cancer Ward in Late Fathers Memory
Solaris Images