Actress Kangana Ranaut launched the music of her upcoming film "Rajjo" in Mumbai, India on October 27, 2013. Also present at the event were director Vishwas Patil and guest of honour Union Home Minister Sushil Kumar Shinde.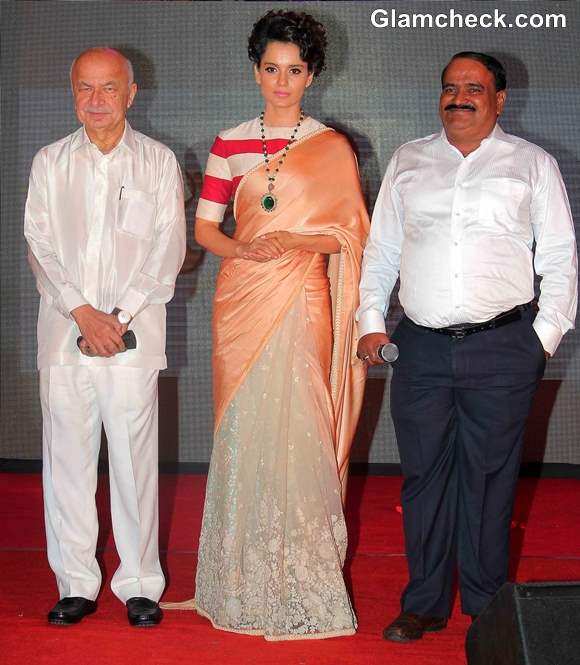 Kangana Ranaut at Rajjo Music Launch
Vishwas used to be in politics himself but took a sabbatical so he could make this movie. Knowing that the Home Minister is a patron of the arts, Vishwas decided to call him for the music launch rather than a Bollywood celeb.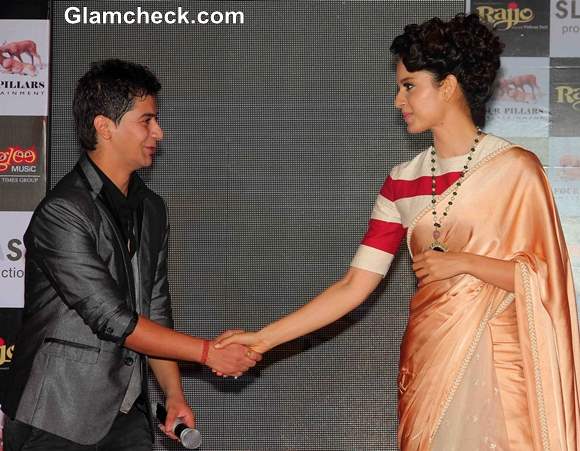 Kangana Ranaut at Rajjo Music Launch 2013
Meanwhile, Kangna has been one busy gal. With two movies lined up for release in the near future – Krrish and Rajjo – she has been on promotional duties back to back for either one project or the other. And she still manages to look fresh, stunning and with it as she did at this launch. Check her out.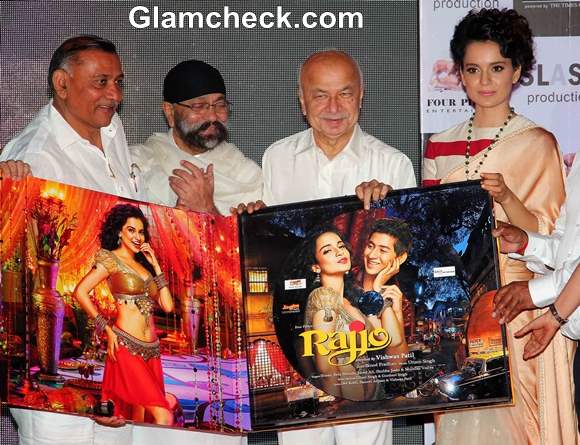 Kangana Ranaut Rajjo Music Launch 2013 Pictures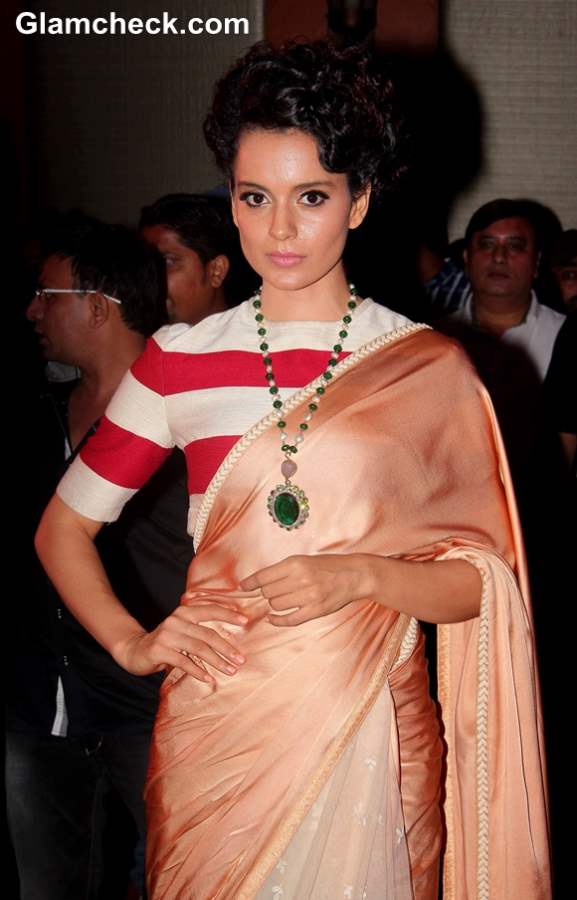 Kangana Ranaut at Rajjo Music Launch 2013 Pictures
Her Ensemble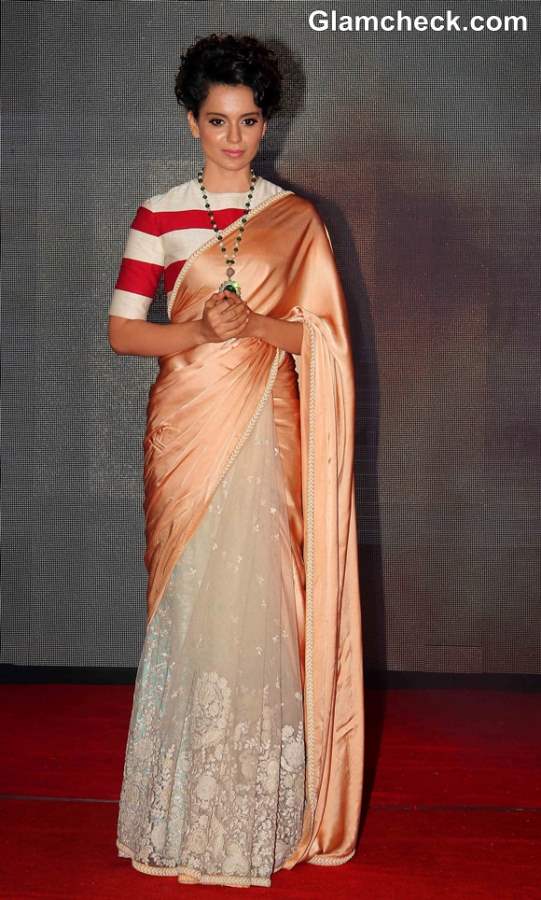 Kangana Ranaut in Sabyasachi Sari at Rajjo Music Launch
Her usual modern chic outfits were replaced with a traditional look for this event, but there was nothing traditional about the ensemble except for the fact that it was a sari. She wore an upbeat, modern one by Sabyasachi.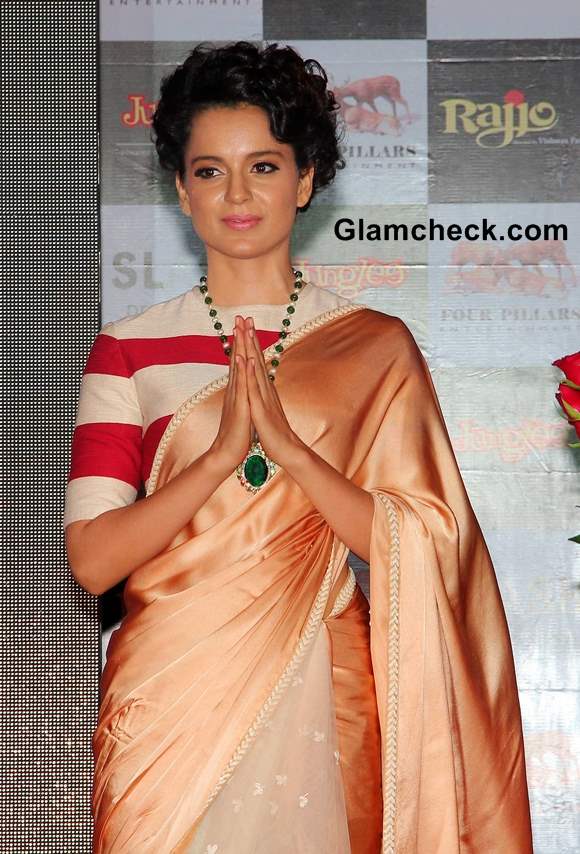 Kangana Ranaut 2013 in Sari at Rajjo Music Launch
It was the blouse that rocked this look, for sure. Fashioned with a crew neckline and sleeves till the elbows, the blouse had red and white horizontal stripes and conveyed something of a nautical nature.
The nine yards itself was a plain peach sans embellishment, giving way to luscious pleats of white lace with a floral motif.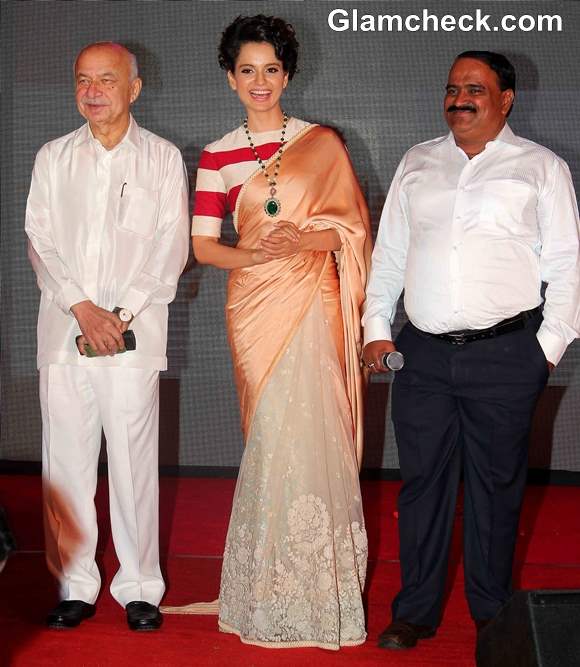 Kangana Ranaut in Sari at Rajjo Music Launch
It was a beautiful number – feminine, youthful, elegant, contemporary and peppy all at once. She teamed the outfit with a statement necklace featuring a large emerald pendant set in gold and diamonds.
Hair and Makeup 
Kangana Ranaut 2013 Hairstyle Rajjo Music Launch
No look of Kangna's would be complete without her patent curls making an appearnace. This time around she swept them into an updo, a very simple one since the curls provided enought texture to make the hairstyle look elaborate nevertheless. She completed her look with darkly lined and mascarraed peepers, and a pink lippie.
Rajjo premieres on November 15, 2013. 
Solaris Images