Bollywood actor Amitabh Bachchan joined ghazal singers Talat Aziz, Anup Jalota, Sumeet Tappoo and Pankaj Udhas to launch their Ghazal album "Destiny" in Mumbai, India on November 5, 2013. The songs on the album are penned by Sri Ram Prakash Goel while the music has been composed by Bhavdeep Jaipurwale.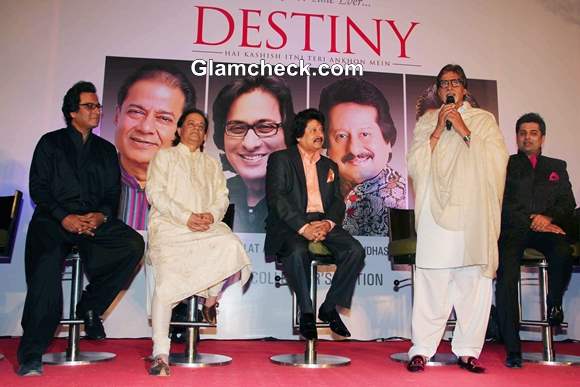 Big B Launches Ghazal Album Destiny in Mumbai
Pankaj, Anup and Talat have a huge fan base not just in the country but all over the world. This is the first time that the three renowned ghazal singers and newcomer Sumeet are collaborating on an album together. So Ghazal fans are really in for a treat and Saregama recods is hoping that it will go platinum.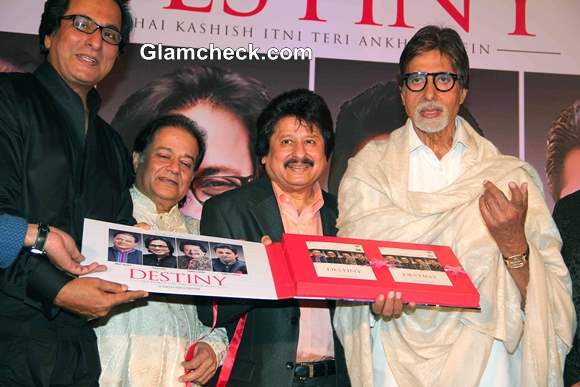 Amitabh Bachchan Launches Ghazal Album Destiny in Mumbai
Destiny is touted as the biggest album in the Ghazal genre for 2013. And Amitabh, a fan of music of all kinds, was pleased to unveil it. He tweeted that the combination of these music maestros was 'supreme'.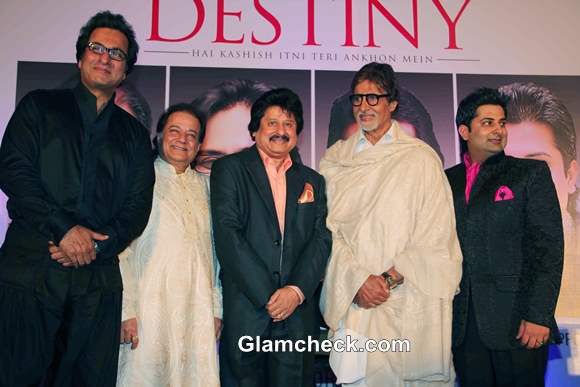 Big B Launches Ghazal Album Destiny
Adarsh Gupta, the head of Saregama India who was also at the event, said that although many people think that ghazal music is a dying art form, the sales of ghazal albums prove otherwise. There are plenty of people who still listen to and enjoy ghazals, which is why he knows that a collaboration of this sort which features ghazal giants would have no problem breaking record sales.  He revealed that they wanted Sumeet, who is Anup's protégée, because he would appeal to a younger demographic, thus making Destiny a winner across all age groups. 
Amitabh Bachchan during the launch of Ghazal album Destiny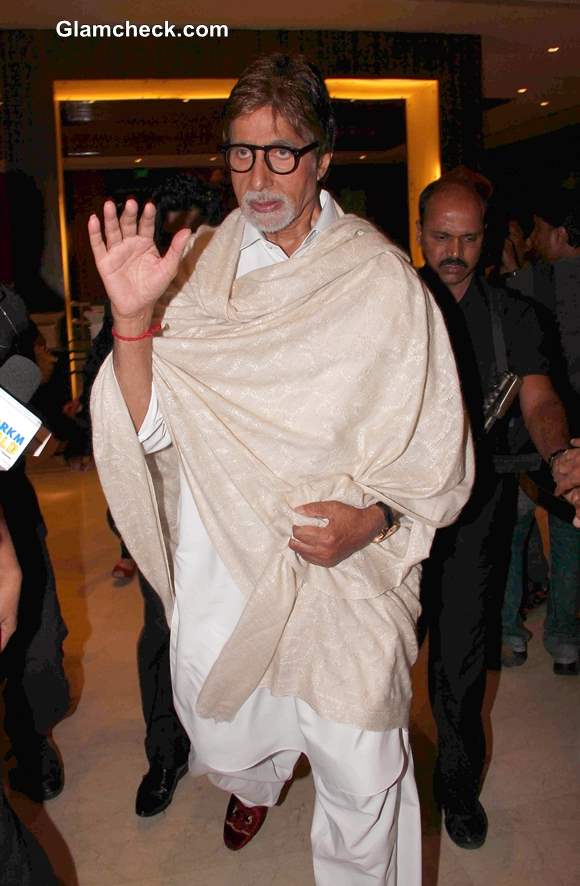 Amitabh Bachchan Launches Ghazal Album Destiny
Solaris Images