Just because you have to travel doesn't mean you have to forego looking stylish. That's a common misconception and one that our celebs continually slam. Bollywood actor Priyanka Chopra shows us how to look fashionable and chic as she landed at Jodhpur airport to attend a wedding party there on November 28, 2013.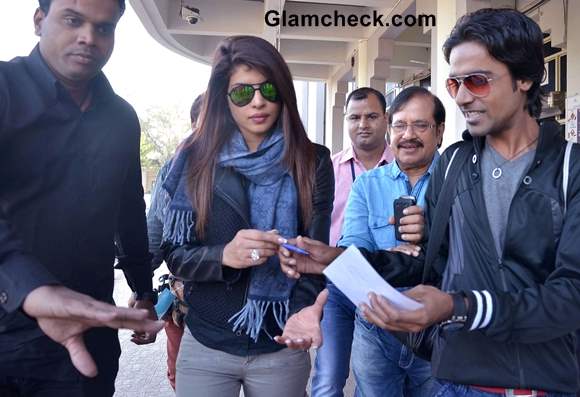 Priyanka Chopra stylish at Jodhpur Airport 2013
Dressing for the Airport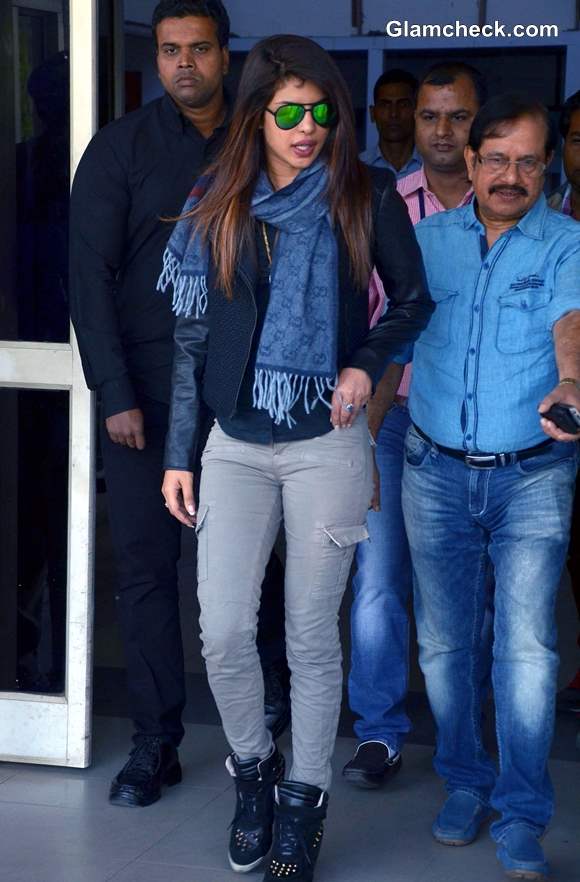 Priyanka Chopra Shows off Her Airport Style
Priyanka slipped into a pair of khaki cargo pants that had large pockets on the sides. She paired them with a black shirt and a black leather jacket.
Her shoes were rather fun – a blue and black lace-up sporty ones with black and yellow detailing on the front. Another additional detail was her blue stole wrapped around her neck to bundle up against the cold.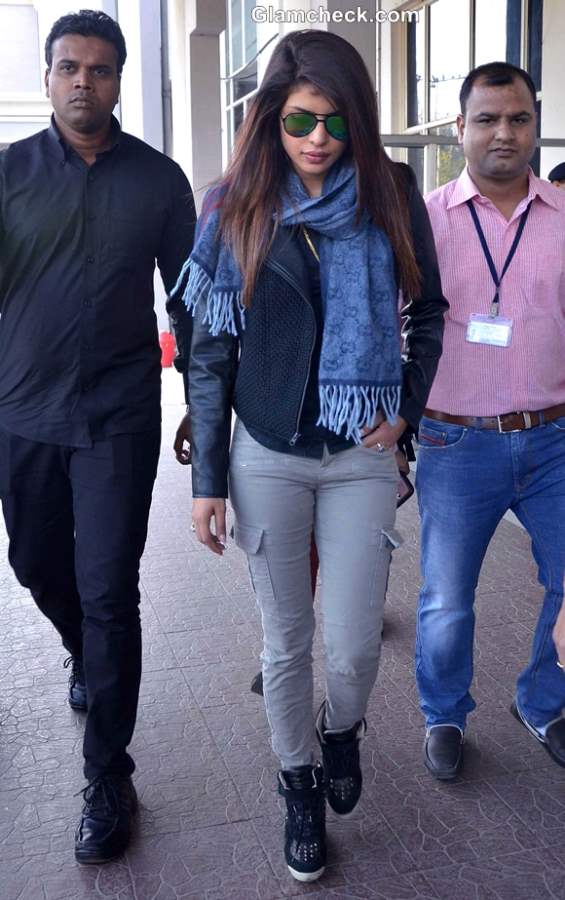 Celebrity Airport Style – Priyanka Chopra
The ensemble is simple and easy to be comfortable in. The jacket and the stole offer layering so you can take them off when needed and easily put them back on without much adjustment.
Note that she did not wear any jewellery. Bling can be more of a hassle than it's worth when you're travelling, and you'd be better off adding stylish accents through other elements of your look. 
Hair and Makeup for the Airport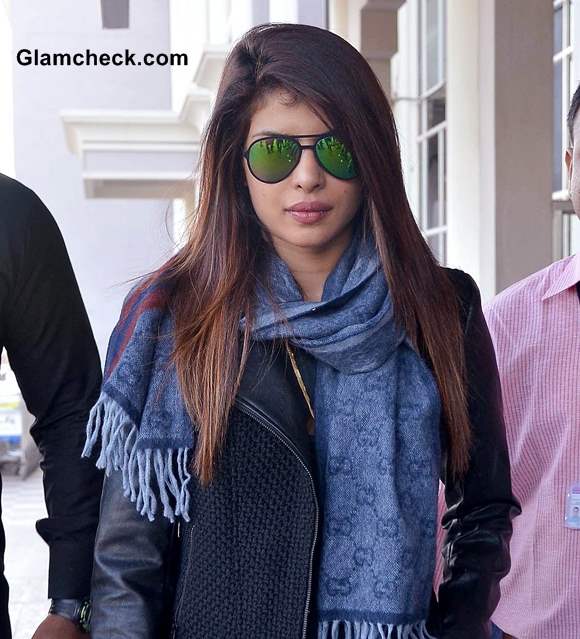 Celebrity Airport Style – Priyanka Chopra at Jodhpur Airport
Her hair was just left loose – no styling or elaborate curls or dos as is the norm for her on her promotional events. It just hung straight down from a side parting.
OK, granted it's not the easiest thing to wear makeup when you're travelling. You're moving around so much and have no access to privacy or a bathroom, sometimes for hours. So it's better to do without altogether, you may think.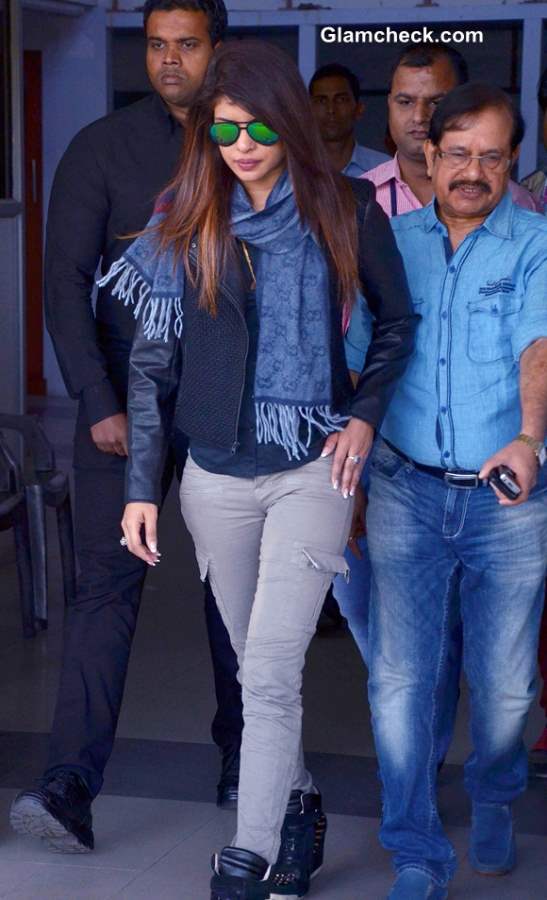 Priyanka Chopra at Jodhpur Airport 2013
However, as you can see from Priyanka's look, it doesn't have to be so at all. Do wear some moisturiser and maybe a light layer of water-based foundation. And apply your favourite goes-with-everything lippie. Ditch the eye makeup altogether but do wear a pair of large sun glasses like Priyanka to hide the fact. Makes you look glamorous and mysterious with less than half the effort.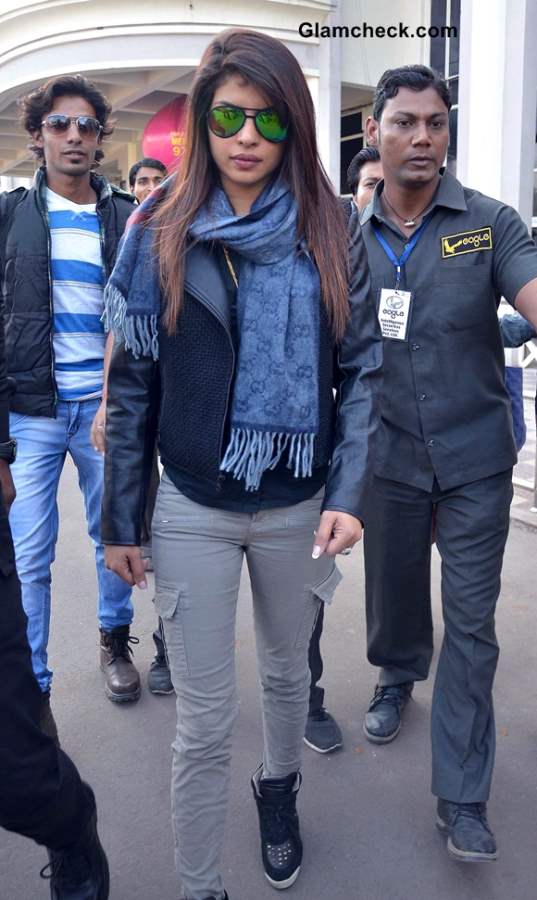 Priyanka Chopra arrives at Jodhpur Airport 2013
With these tips from Priyanka, hopefully you'll choose to wear something other than your humdrum sweats the next time you're flying.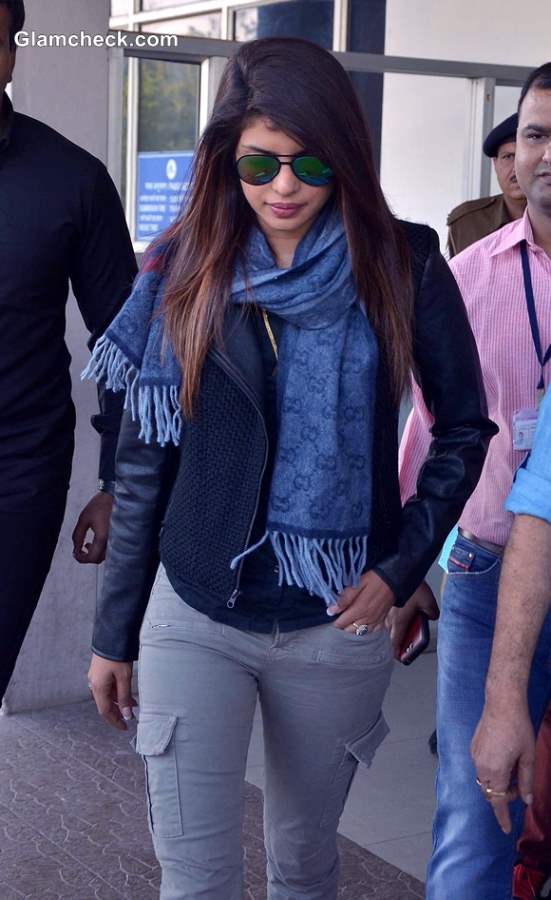 Priyanka Chopra style at Jodhpur Airport 2013
Solaris Images