Bollywood actor, Jacqueline Fernandez was the showstopper and star attraction at Jyotsna Tiwari's show during the Aamby Valley India Bridal Fashion Week (IBFW) 2013, in Mumbai, India on November 29th 2013. Designers love bollywood celebrities as it brings that extra bit of glamour to their show and the six day event will certainly see a lot of big celebrities walking the ramp this season too.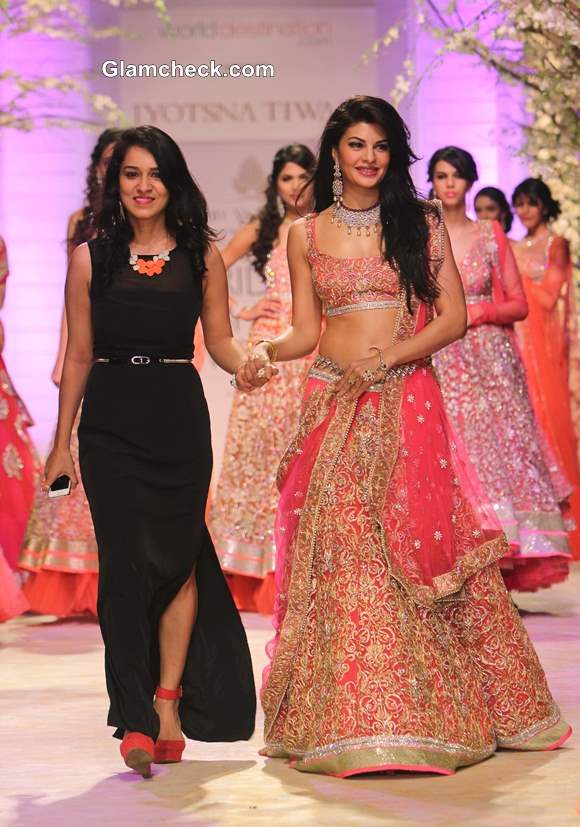 Jacqueline for Jyotsna Tiwari at India Bridal Fashion Week 2013
Jacqueline undoubtedly looked ravishing on the ramp and decoding Jacqueline's look, she sashayed down a pretty fuchsia pink and gold lehenga and the whole ambience was such that it looked nothing less than a fairytale collection.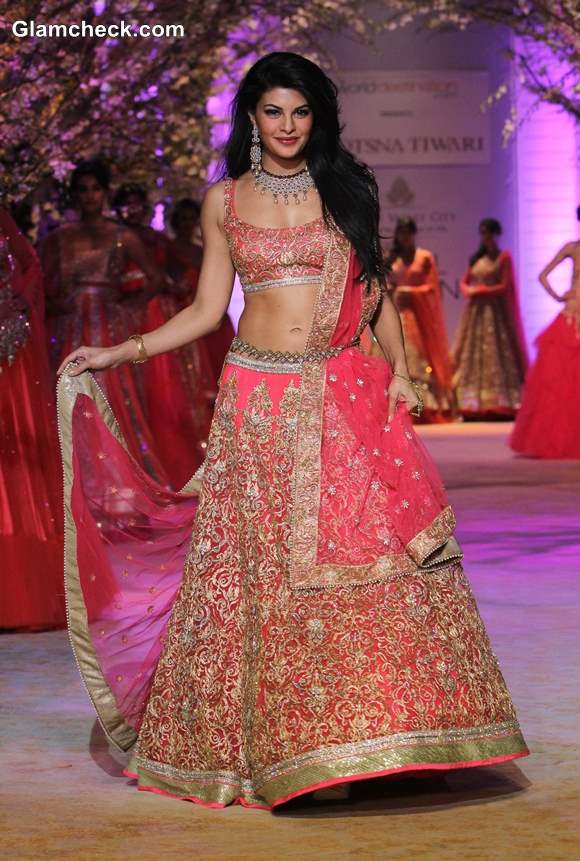 Jacqueline Fernandez 2013 India Bridal Fashion Week Jyotsna Tiwari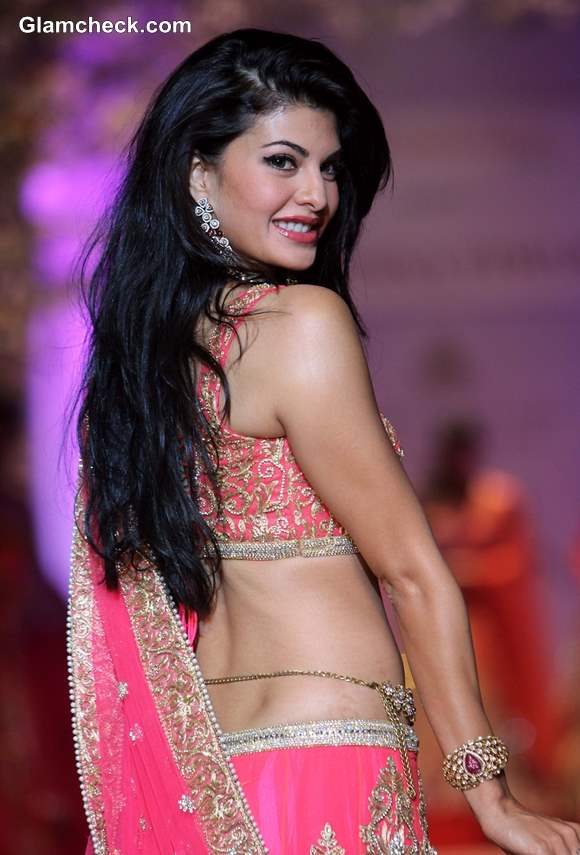 Jacqueline in Jyotsna Tiwari Pink Lehenga at India Bridal Fashion Week 2013
The choli was short and had intricate gold embroidery on it and the skirt also had the same embroidery all over with a dull gold border. The dupatta was smartly tucked in and cinched at the lower waist with a diamond kamarband. The lehenga was definitely a heavy one, not meant for a cocktail or a mehendi function, only meant for the bride to wear on her D-day.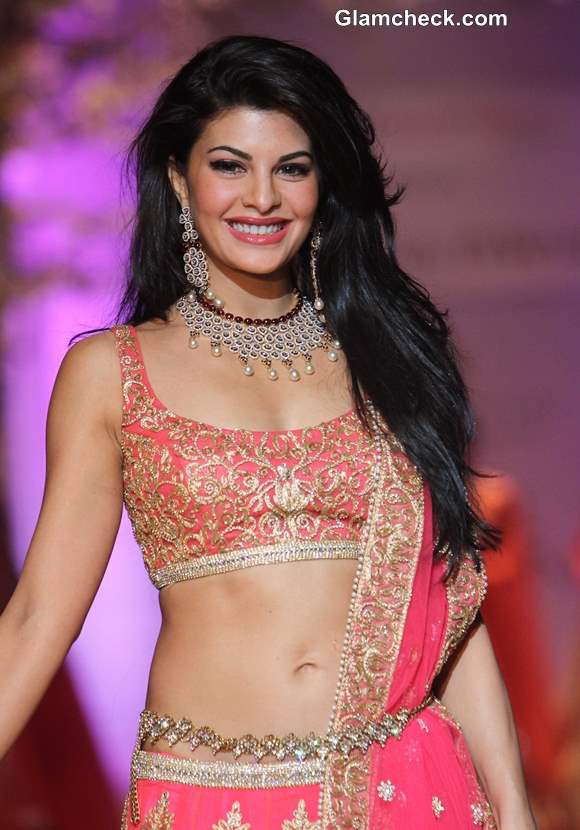 Jacqueline at India Bridal Fashion Week 2013
As for other accessories, she wore a matching set of long earrings which complimented her face cut and a kundan neckpiece with pearl droplets, a bracelet in one hand and a gold haath phool in the other.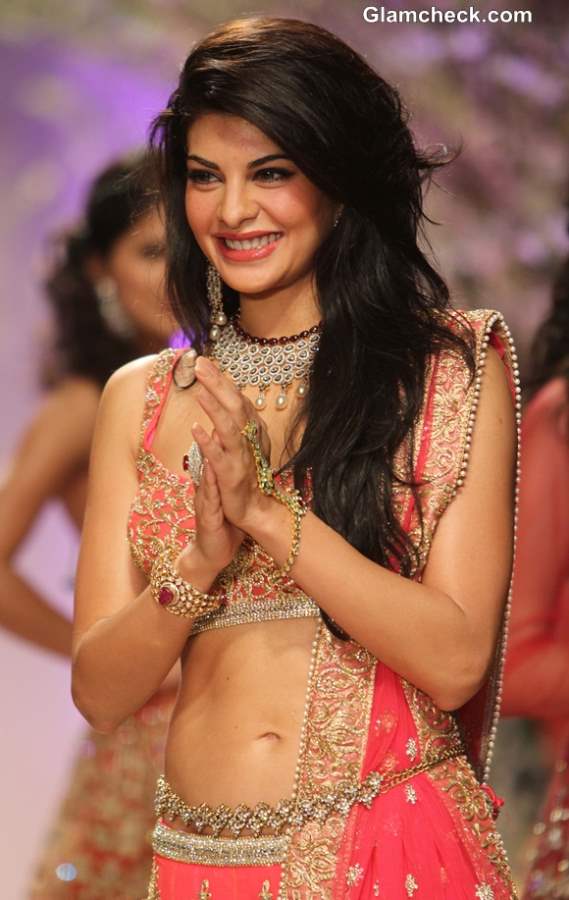 Jacqueline Fernandez 2013 India Bridal Fashion Week 
Her black colored hair was left to flow naturally down in long wavy tresses and her makeup incorporated matching pink lipstick and winged eyeliner. We really loved this look on her and though she looked very pretty in pink!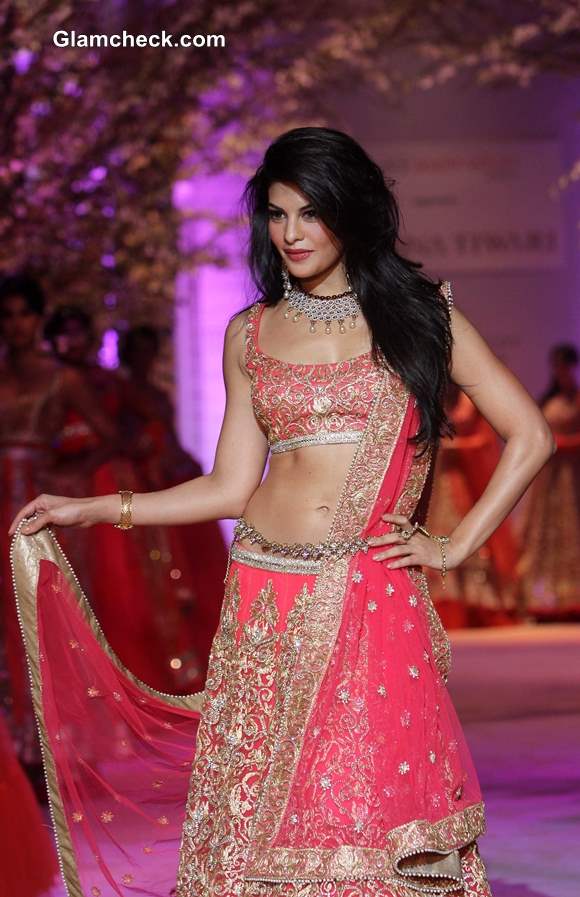 2013 India Bridal Fashion Week Jacqueline Fernandez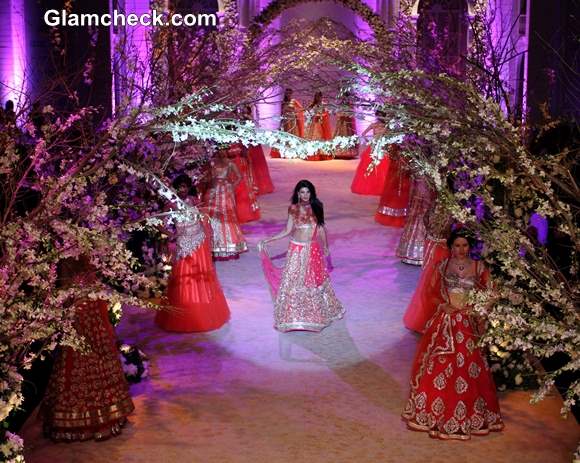 2013 India Bridal Fashion Week Pictures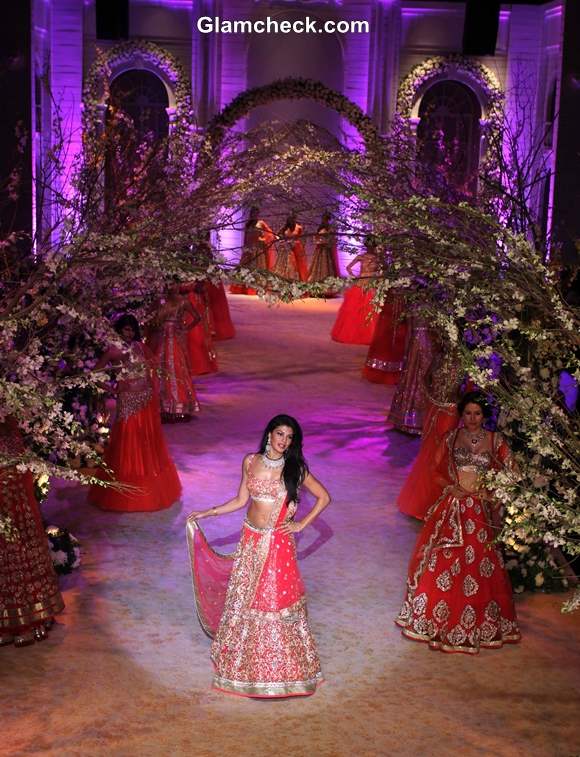 2013 India Bridal Fashion Week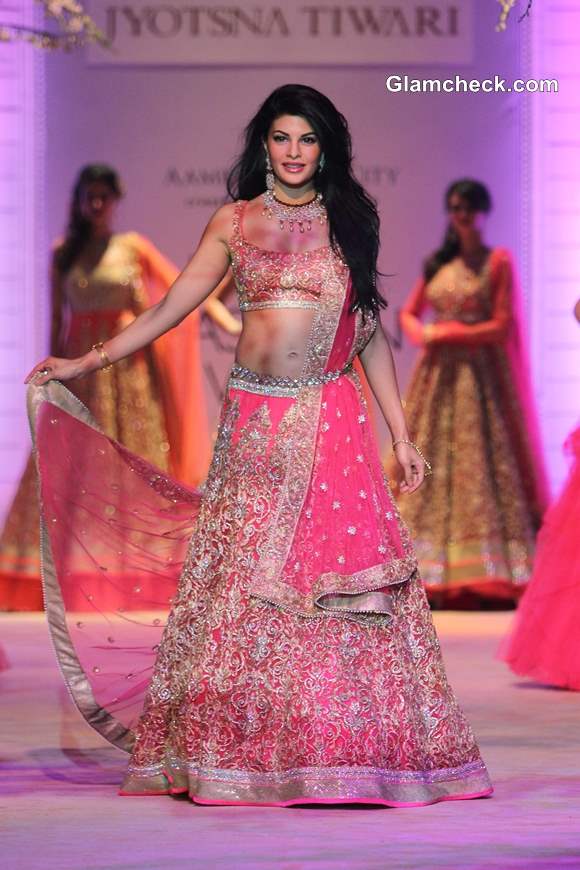 Jacqueline Fernandez for Jyotsna Tiwari at 2013 India Bridal Fashion Week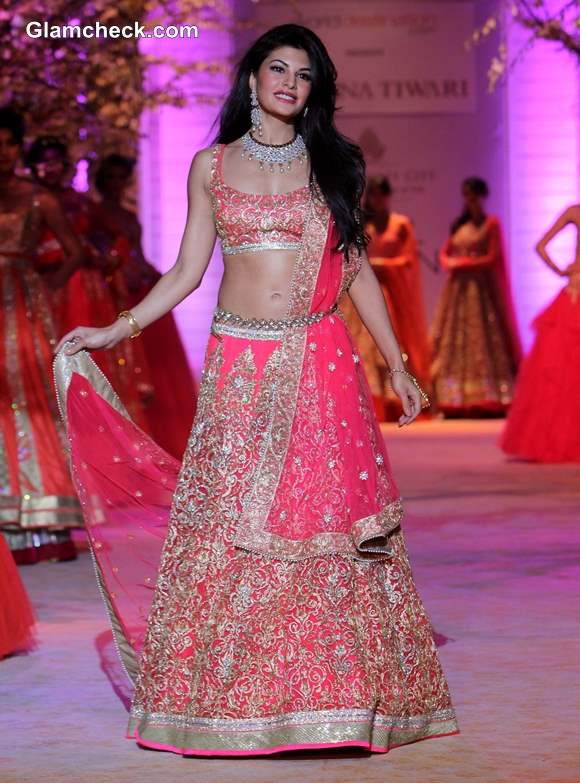 Jacqueline Fernandez in Pink Lehenga 2013 India Bridal Fashion Week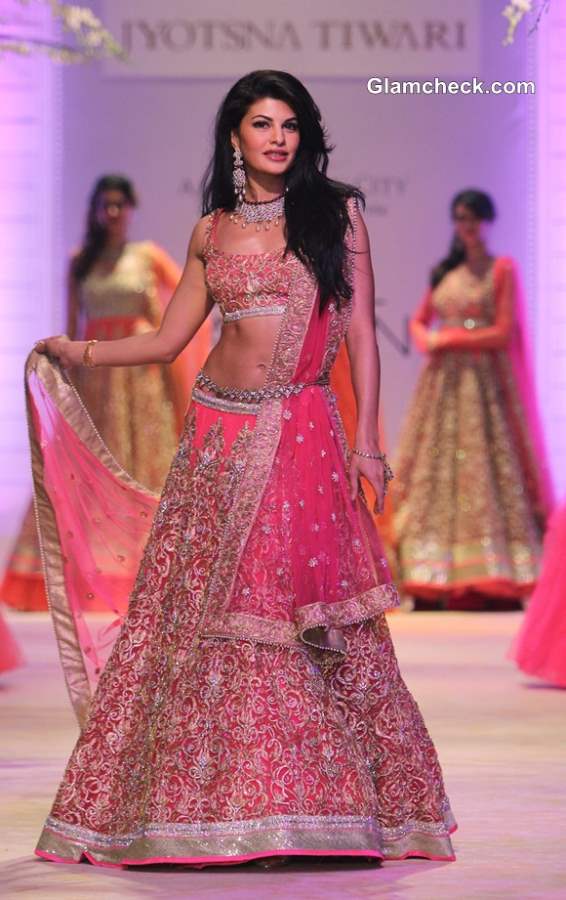 Jacqueline in Jyotsna Tiwari Bridal Pink Lehenga at India Bridal Fashion Week 2013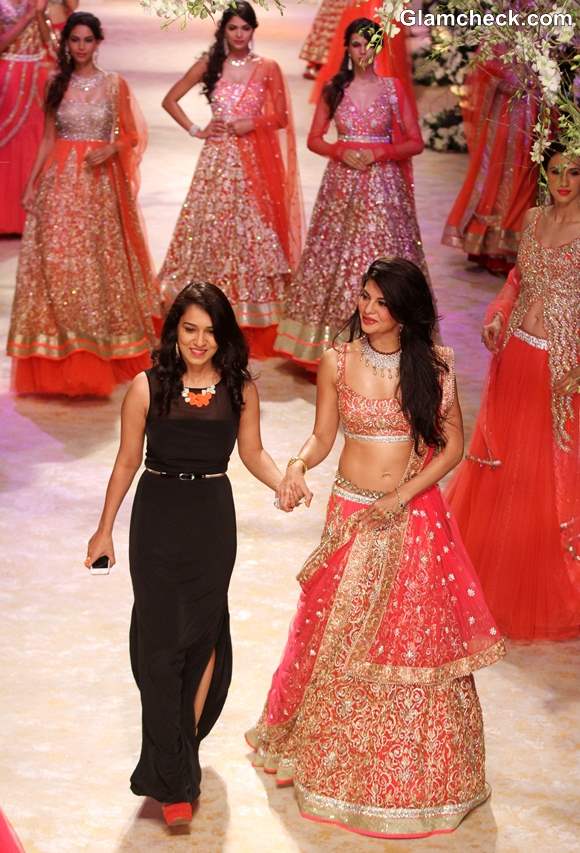 Jacqueline Fernandez 2013 India Bridal Fashion Week
Solaris Images