Sonam Kapoor is a big name in the Indian fashion scene. It is true that she is a Bollywood star first, but her fashion sensibility makes her a style icon. In fact, she is more known for being a true blue fashionista. Her sartorial choices have the "Sonam Kapoor" stamp all over them because she redefines every outfit she wears with her unique style of accessorization, hairstyle and makeup – and, not to mention the personal touch of carrying the outfit in a way totally different from anyone else, who would have donned it.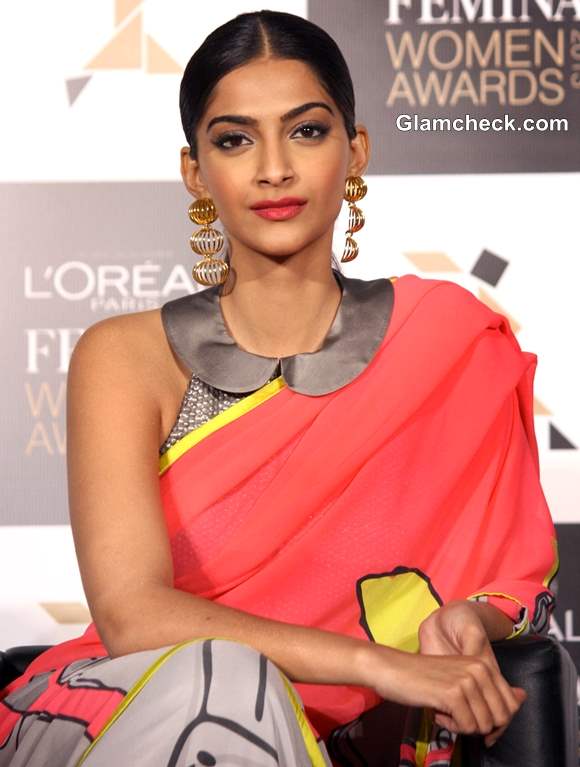 Sonam Kapoor in Sarees
The saree is the national dress of India. It is a 6 yard wonder that makes every woman look good, and never fails to draw attention to its elegance – in whichever part of the world it is worn. However, when Sonam Kapoor chooses to don a saree we see the true magic of the style diva's personal fashion quotient and the untapped potential of our most popular ethnic wear.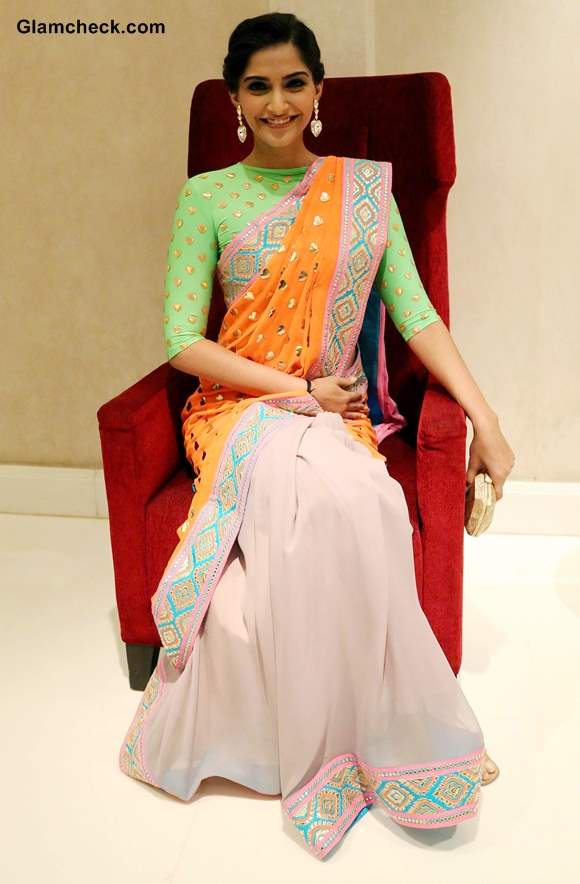 Sonam Kapoor in Sarees Pictures
It can be said quite directly that Ms Kapoor is playing a rather important role in reinventing the saree and giving it an avant garde avatar. She has paved the way for bringing about a modern outlook to the saree by dressing up in funky prints coupled with new structure of blouses – that are generally not associated with this traditional Indian attire.
Well, who could have thought that the saree would look so good with a blouse in a T-Shirt style or with a Peter Pan collar? Well, Sonam Kapoor did – and she carried the looks with panache.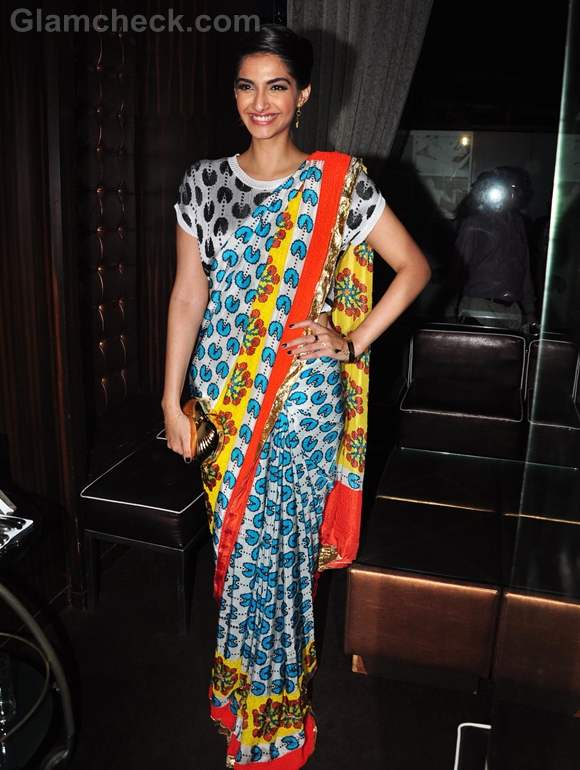 Sonam Kapoor in Saree Pictures
Yes, we are definitely inspired. True, the funky and modern prints should be credited to the designers. However, sometimes it is not so much about the patterns or the design but their visibility in the public arena for people to take notice, and this is exactly what the actress is doing.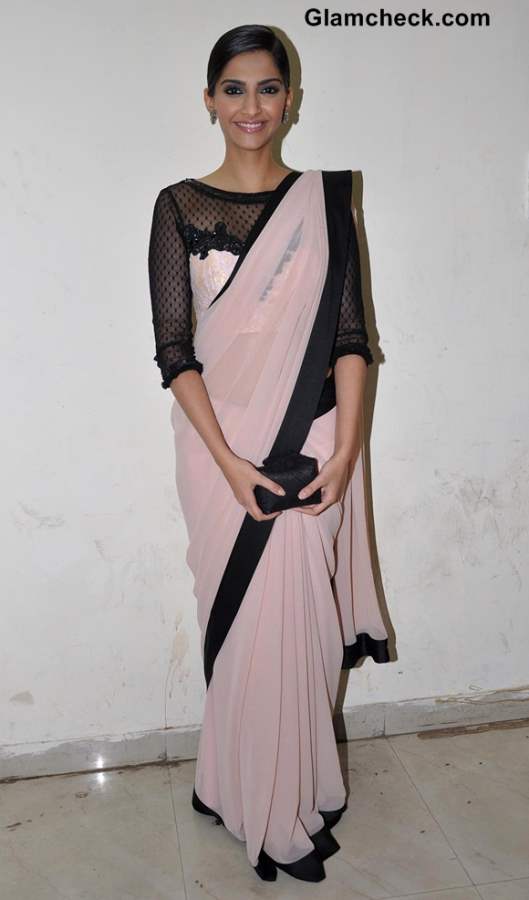 Sonam Kapoor in Sarees Pics
When a public figure like her wears such ensembles, the rest are bound to notice and follow in her footsteps. Whenever a fun element is added to any piece of ethnic wear, it draws attention and interest. This is very important to capture the youth market, after all it is them who will go on to keep the culture of wearing the saree alive.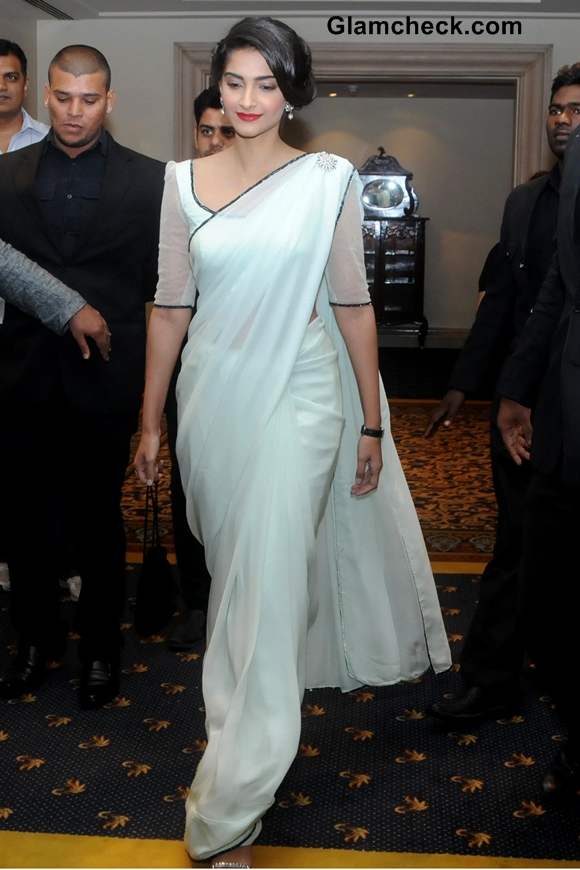 Sonam Kapoor Sarees Pics
Sonam Kapoor is definitely playing her part in presenting an innovative style of the saree that makes the best use of modern and vintage combinations to pioneer a delightful look, which can be incorporated in daily life without going over the top. All we can say is Kudos!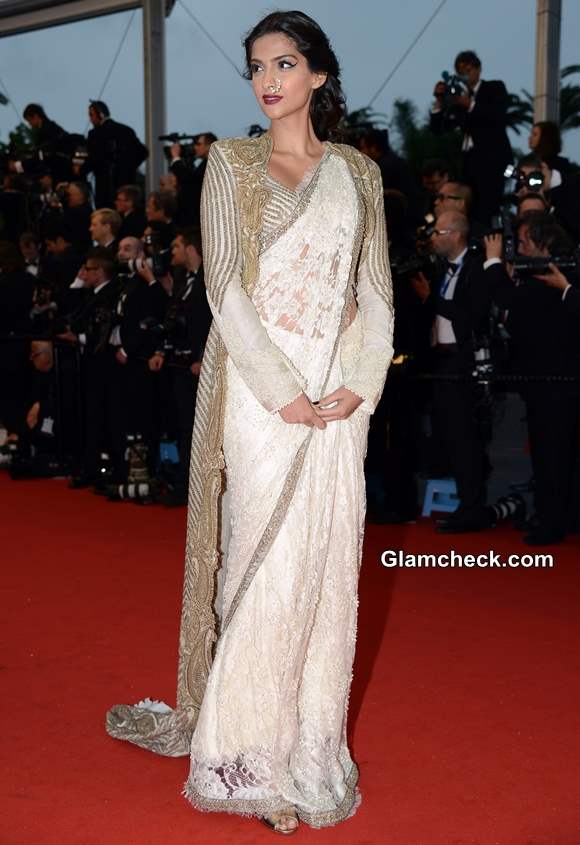 Sonam Kapoor Saree Pics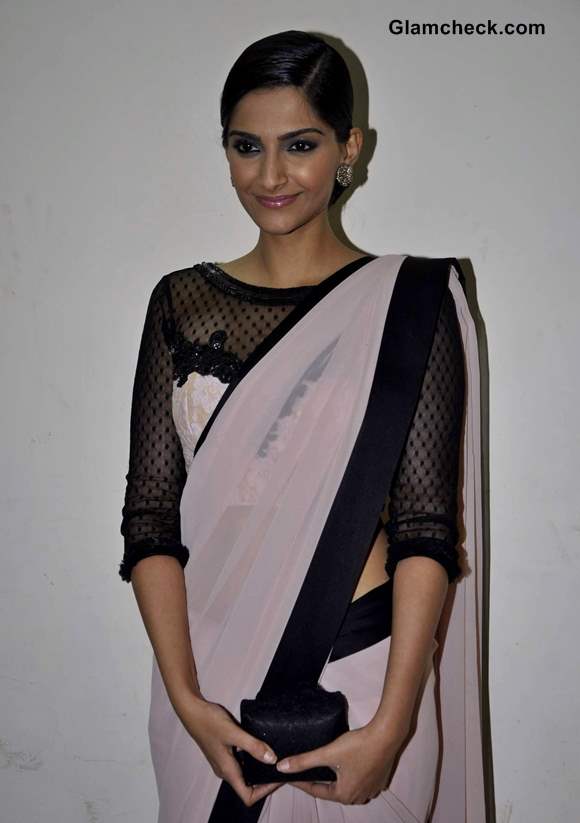 Sonam Kapoor Sarees 2013
Solaris Images, Indian Photo Agency