Ganesh Chaturthi is just around the corner, and like every year, I have a cool collection of style ideas and looks that you can sport to make the most of this auspicious and beautiful festival.
 Watch the VIDEO –
This time the feature is on three distinct looks, each of which can be worn for a different occasion during Ganpati Festival.
Base Makeup
I will first focus on the makeup that I have worn for all the three looks; it remains the same for all with just a few minor changes for each, such as the addition of bindi.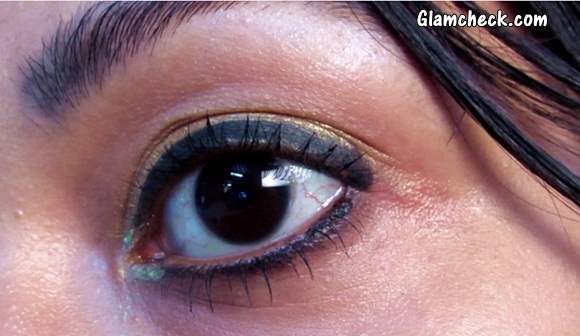 Golden Shimmery Eye Makeup – Indian Youtuber
Eye makeup – I decided to keep the eye makeup based on a gold shimmery look to celebrate the festival feel. I started by filling in the eyebrows to make them look even and pronounced. Next, I applied white eyeshadow on the upper eyelids as well as the inner corner of the eyes. This was followed by applying a brown glitter based eyeshadow on the eyelids. On top of this, I used a golden shimmering eyeshadow. The combination of the base glitter and top shimmer gave more definition to the eyes. I also used a black pencil eyeliner along my upper lash line and lower eye rim to accentuate my peepers more.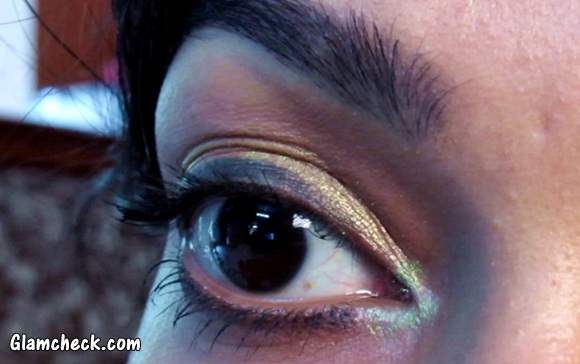 Golden Shimmery Eye Makeup – Indian Youtuber – Sarita Upadhyay
I finished the eyemakeup by applying a glitter based eyeshadow in moss green color on the inner corner of the eyes. A few coats of mascara on the eyelashes were the last touch.
Lips– I went with a red lipstick for my lips to get a pretty, chic and yet traditional look.
Nails – A red manicure and pedicure is my choice for Ganesh Chaturthi.
LOOK 1 – Marathi Mulgi Inspired Look
Though the entire country rejoices during Ganesh Chaturthi, still it is a festival that is mostly associated with Maharashtra. Therefore, my first focus is on the Marathi Mulgi (Marathi girl) inspired look.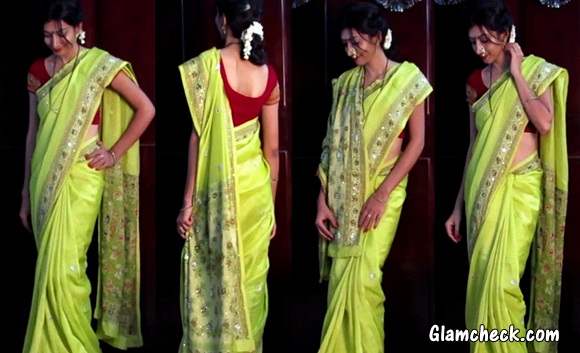 Marathi Mulgi Look – Indian Fashion Youtuber
Makeup: The makeup for this look is the same as explained in the base makeup above. The only addition is that of a half moon design bindi. This design is specific to Marathi ladies and you can create it by using a black pencil eyeliner. Draw a half moon design between your brows, followed by a small horizontal line under it and finally a small black dot below the line.
Hair: For the hair I decided to opt for a low bun, tied at the nape of my head. I adorned the hairstyle with a gajra, not only does it add a more traditional touch but also smells really good, adding to the puja spirit.
Accessories: I used a Maharashtrian nose ring to emulate the Marathi Mulgi look, it is basically a paisley design nose ring worn by Marathi women. Gold earrings, mangalsutra, gold bangles and gold rings completed my traditional accessorization.
Outfit: This look focuses on a contrast combination with traditional undertones. Yellow and maroon are considered traditional and auspicious colors in India so I went with this combination. My pick was a yellow silk sari with embroidered border detailed with some sequin work that I wore with a maroon blouse. Other combinations that look interesting and vivid are green yellow, yellow maroon, green orange etc. Do ensure that your saree is draped neatly and pleat the pallu.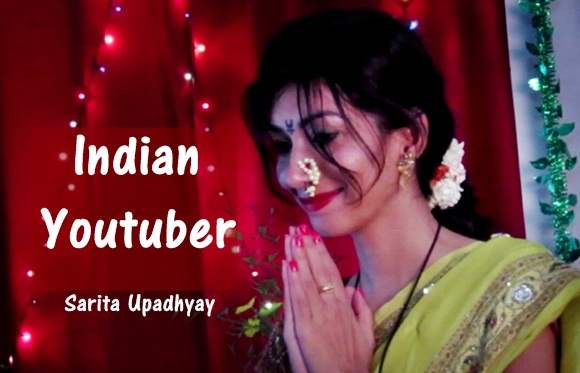 Indian Youtuber – Fashion Blogger – Indian Style Icon
How and where to sport the look: The Marathi Mulgi inspired look can be worn during the puja and aarti at home. This traditional style is also a good look for the hostess of the house which celebrates the festival.
LOOK 2 – Glamorous Indo Western Look
This look is all about creating a balance between tradition and style, and makes a good blend of Indian and Western glamour.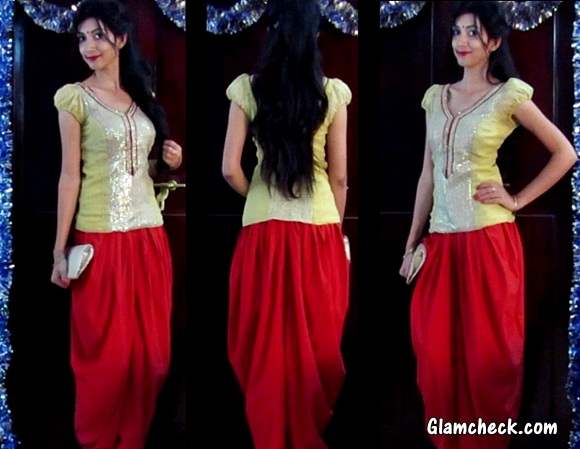 Glamorous Indo Western Look – Indian Youtuber
Makeup and hair – The makeup remains the same with just the addition of a small round red bindi.
Hair – I went for a half updo for this look. To create it, take small sections of hair from both sides of your head, pinning it back with hair clips. Leave the rest of the hair loose, and let them fall either on the shoulders or the back.
Outfit – The look centers on a mix and match style that makes use of traditional color combination again, the gold/beige and red combo. I am wearing a beige top from Globus that has some fine gold and maroon detaining. I teamed the top, which also features nice and short puff sleeves, with red dhoti pants from Akriti.
Shoes – For footwear I chose a pair of golden studded heels that I had picked up from Senorita in Bangalore, a long time back.
Accessories– A beige and red clutch bag, which I had got complimentary from Revlon, and a golden bangle were my accessories for the look. 
How and where to sport the look – This look is quite appropriate for visiting various Ganesh Pandals or for attending a Ganesh Chaturthi puja or party at someone's place.
LOOK 3 – Ethnic Eclectic Look
The third look revolves around an ethnic eclectic look, which makes a mix of traditional styles with a touch of western element. 
Indian Fashion – Ethnic Eclectic Look – Indian Fashion Blogger
Makeup – The makeup remains totally same as the base makeup. So, there is no addition of bindi.
Hair – I tied my hair into a low ponytail to go with the look.
Outfit – Once again, I focus on a mix and match look that makes use of black/gray and maroon combination. My kurta is from Akriti, and I rolled up my sleeves to the elbows as it allowed for more comfort. This same look can be worn in two ways by making small changes.
1st – For the first look, instead of taking inspiration from indo western fusion, I relied on an eclectic blend of traditional wear. So, I wore my red dhoti pants with the kurta. I also added a red dupatta and a beaded long necklace. Since ganesh visarjan involves lot of activities including dance, it's a good idea to wear a pair of ghungroos to add a little more drama and character to the overall look.
2nd – The second look has a western touch, as I wore a pair of red denims. I also added a traditional touch, to go with the eclectic theme, by wearing a necklace, gold bangles and ring. Adding a dupatta or a pair of ghungroos to this look is completely optional.
Accessories – Gold bangles and ring complete my accessories for the look.
How and where to sport the look – This look is ideal for Ganpati Visarjan, as one usually engages in a lot of walking, dance, fun and fervor on this day. You can wear a pair of comfortable flats, like pumps or thongs, to make the celebratory journey comfortable.
For more style and look ideas, you can head to Ganesh Chaturthi looks inspired from the ramp and celebrities, Ganesh Chaturthi hair and makeup ideas, Ganesh Chaturthi fashion for kids, Traditional Beauty Looks for Ganesh Chaturthi.
Indian Fashion Youtuber – Festive Looks by Sarita Upadhyay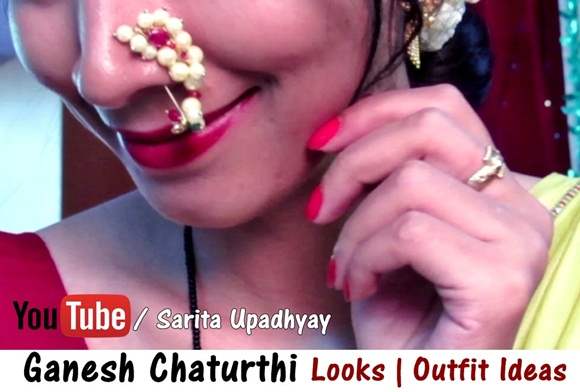 Ganesh Chaturthi Outfit Ideas Indian Fashion
I hope you had fun watching my Ganesh Chaturthi special video and liked my festive looks. You can, ofcourse, customize the ideas further according to your own style sensibilities.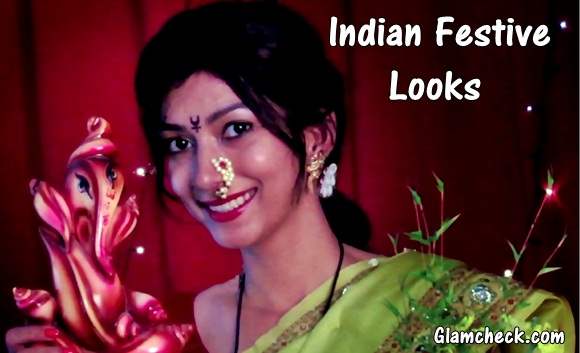 Indian Festival – Ganesh Chaturthi Outfit Ideas Makeup Hairstyle
I wish you a great time for celebrating and dressing up this Ganesh Chaturthi. Ganpati Bappa Maurya!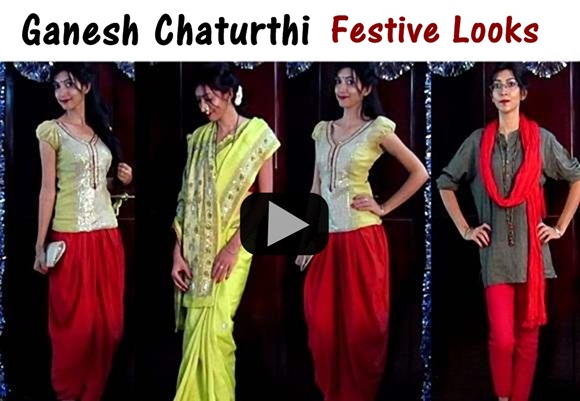 Indian Youtuber Sarita Upadhyay