When it comes to fashion and styling, Kalki Koechlin is one Bollywood actress we always look forward to. She keeps pulling off one fabulous look after another; by fabulous we don't mean the tried and tested way, it's that interesting styling bits which she adds that keeps us guessing. Unlike most of her contemporaries in Bollywood, she is not one to rely on the skills of well known fashion designers to pull off a stunning look. Her vivacious personality is visible through her quirky sense of fashion. For the screening of 'Finding Fanny', Kalki went for a minimalistic classic look in a neutral nude top and black skinny pants. We just adore those classy black shoes!
Shraddha Kapoor went for a sporty look in basic white tee, black trousers and matching white sneakers. The only colors were a surprising pair of cute hearts on her black trousers.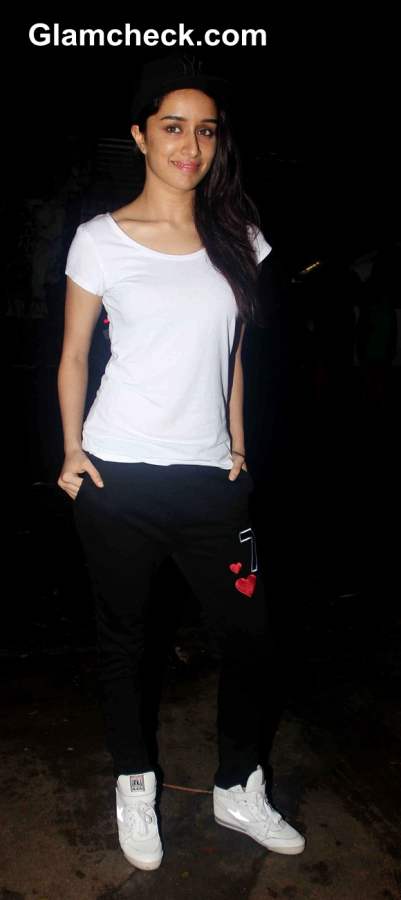 Shraddha Kapoor 2014 Casual style
Sonakshi Sinha came for the screening wearing a breezy white tank dress with an overlay of lace. She was also spotting teaming the dress with a denim shirt jacket – the two contrasting pieces perfectly complement each other. Though she looked pretty chic, this ensemble is better suited for a very laid-back street-wear or beachwear look.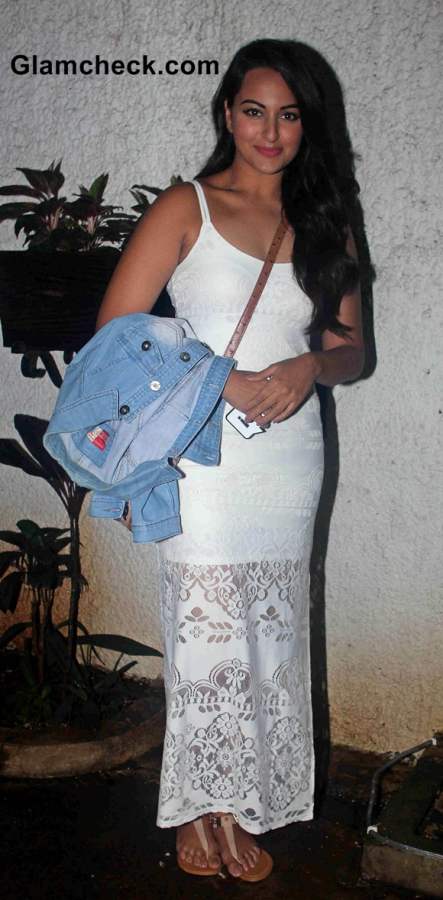 Sonakshi Sinha 2014 Casual style
Huma Qureshi went for a simple fuss-free look in black jeans, white top and a brown summer jacket. Hair done in a simple low ponytail, fresh natural make-up and a pair of nude pumps, the look is too minimal but yes, she does look pretty.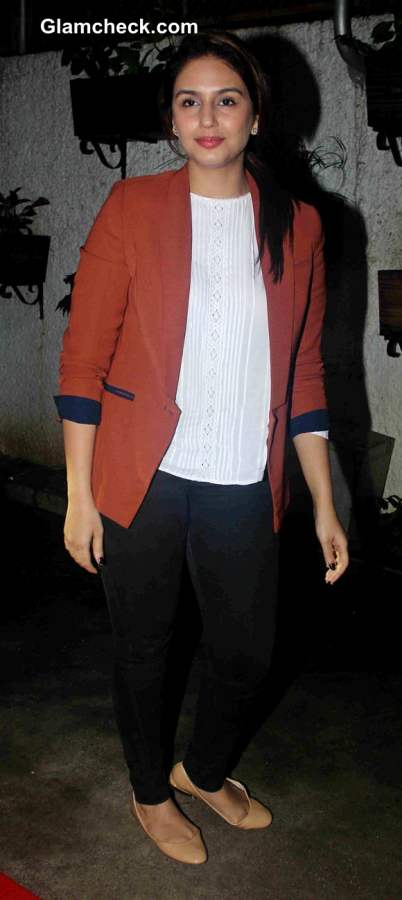 Huma Qureshi 2014 Casual style
The talented Vidya Balan was seen in an all black anarkali which had little embroidery detailing in white. An all black ensemble and that messy black hair falling loose on the shoulders – that's a complete off oh-no! She sure had seen better fashion days. The look could have worked had she tied her hair up in a neat bun but Vidya's oily messy hair puts us off. Seriously, what were you thinking?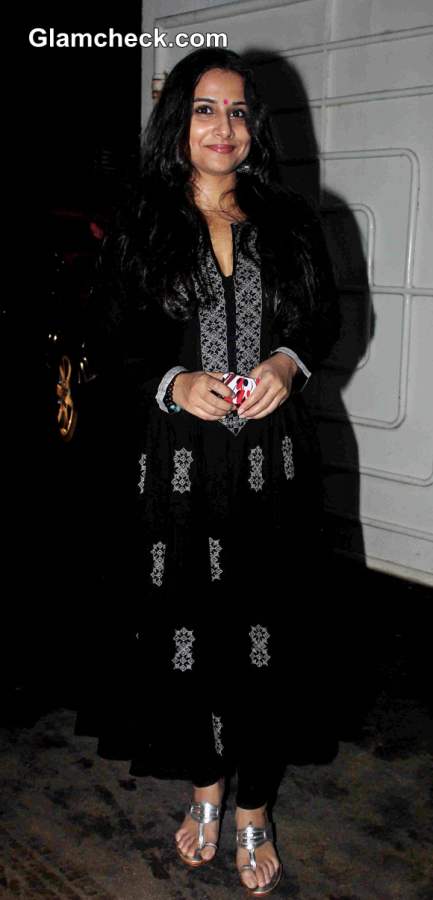 Vidya Balan 2014
The cast of the film, Deepika Padukone and Arjun Kapoor arrived for the screening in very different looks. Arjun Kapoor went laid-back casual in blue denims, striped shirt and sneakers. While Deepika went for a glam look in a black and white Aztec printed top paired with bright red pencil skirt. Beautiful burst of red on her pair of heels and on her lips and hair neatly done, she looks fabulous.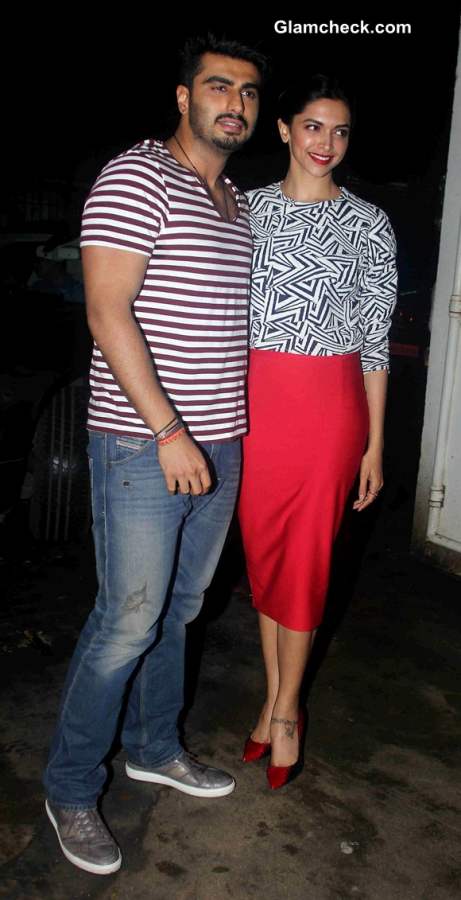 Arjun Kapoor and Deepika Padukone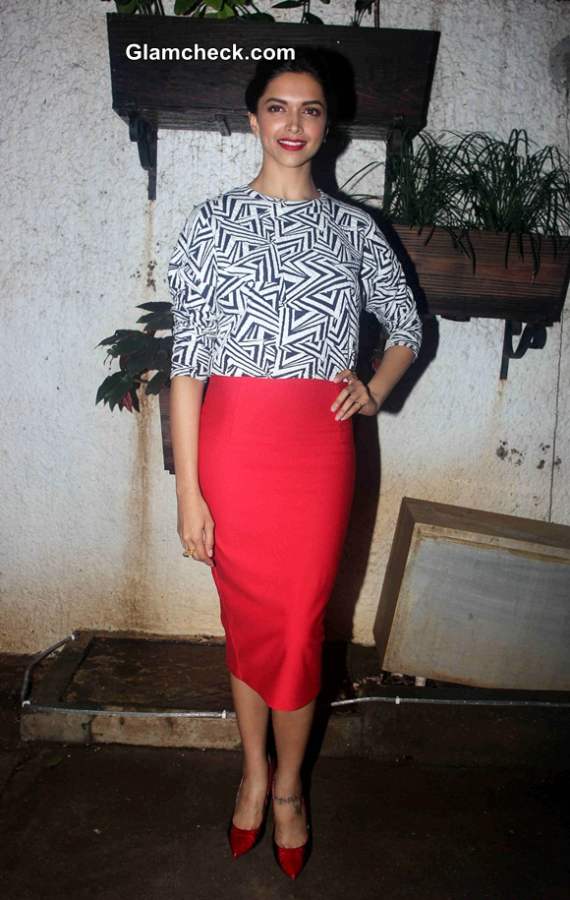 Deepika Padukone 2014
Solaris Images