Kareena Kapoor, as UNICEF's celebrity advocate for India, launched a package specially designed for school children to make schools and systems child friendly. The package also aims to make children's learning environment wide-ranging and child friendly.
Says Kareena Kapoor "I believe in quality of education… When I visited a child-friendly school in Rajasthan, I was overwhelmed. The classrooms were clean and colorful. Children had a smile on their face. There was activity-based learning too. I wanted to go back to school after seeing all this."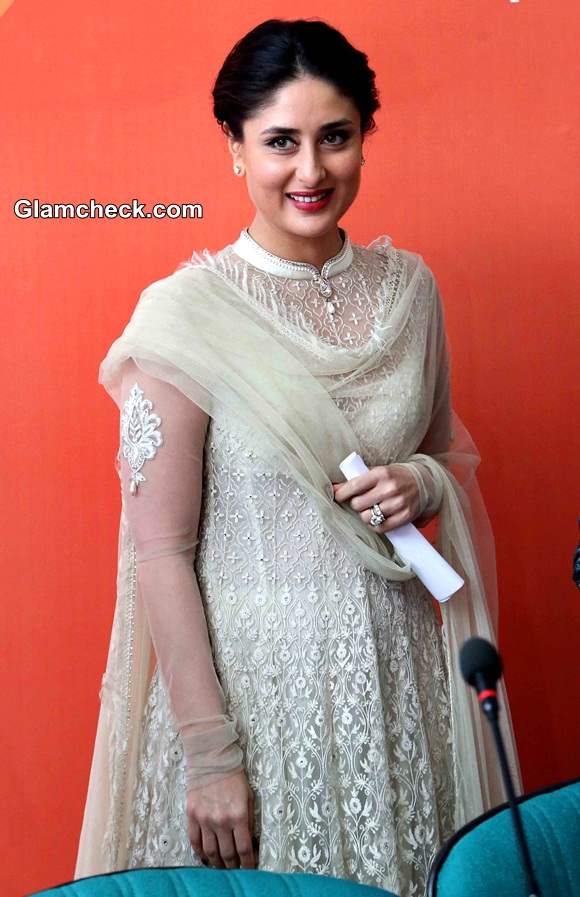 A Dose of Royalty – Kareena Kapoor Festive Look
The presence of the actress added a dose of glamour to the event. Most importantly, she lived up to the occasion of such an honored event and exuded an aura of dignified royalty. She opted for an elegant off-white anarkali suit by Indian designer Tarun Tahiliani. The look was styled perfectly – hints of color from her dark plum nail polish, a light shade of plum red on her lips, her iconic eyes subtle yet bright and hair done in a neat up-do; she was in every inch a stunner.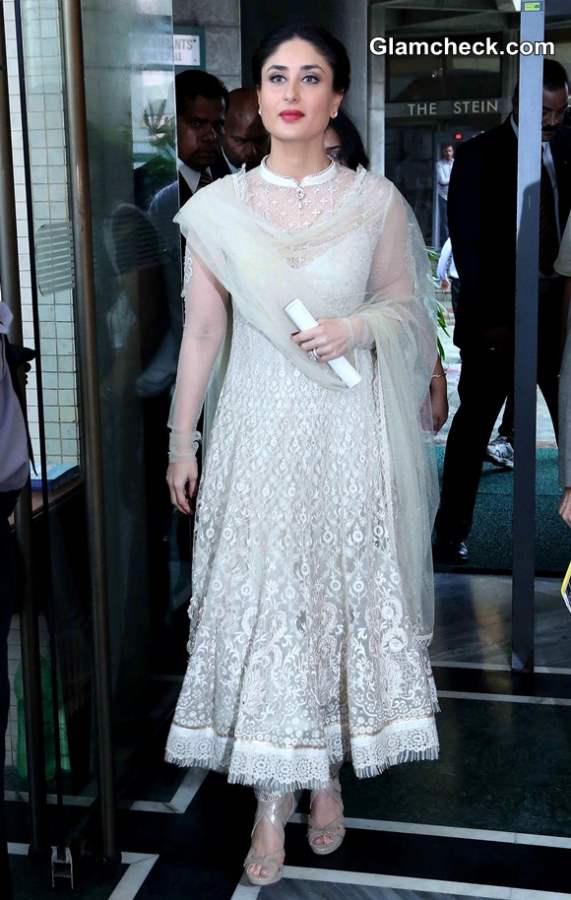 Kareena Kapoor in White Anarkali Festive Look
Styling an all white or off-white look needs careful styling and we must say, Kareena Kapoor hits a 10 on 10 on this. To work this classy and elegant look, you will very subtle yet bold styling. Get the look with five simple steps.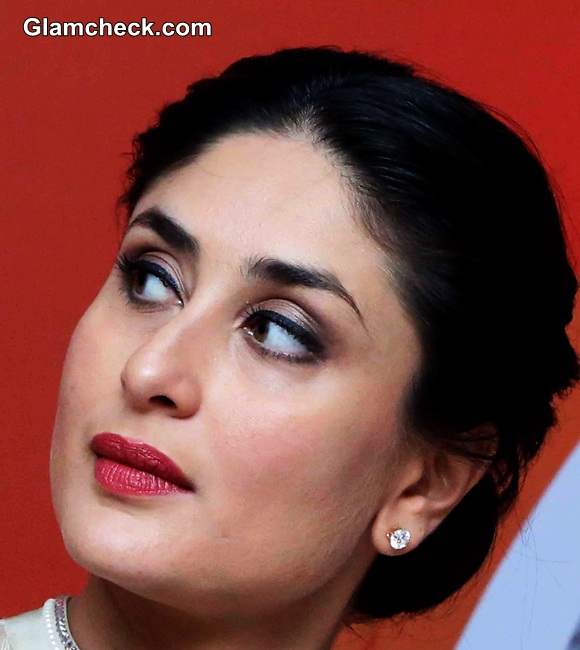 Kareena Kapoor Makeup 2014
Choose the right shade of red – If you think you can't rock red lips, think twice! There are endless shades of reds ranging from orangey reds to deep plums. All you need to do is choose the shade that works for your skin-tone. A small tip – fair complexion usually goes well with slightly orange tinted reds and dusky complexion goes with deeper darker reds.
Iconic eyes – Since the lip color is bold, you should not let your eye-makeup be too overpowering. Kareena used a light silvery shade of eyeshadow (which helped open up her eyes) and finished off with black eyeliner and mascara. Do not ignore your eyebrows, they add definition to your over all make-up.
Paint those nails – Kareena gets the shade right by going for a rich and deep shade of plum; luxurious and vampy reds are one of the hottest nail colors this season.
Add colors to your cheeks – Use a natural blush that suits your skin color and brush them on your cheeks to give your face a rosy fresh glow.
Do up your hair – Braids are hot this season and so are hair-up dos. Why not combine these two styles together? Braid small sections of your hair and twist them into a neat bun.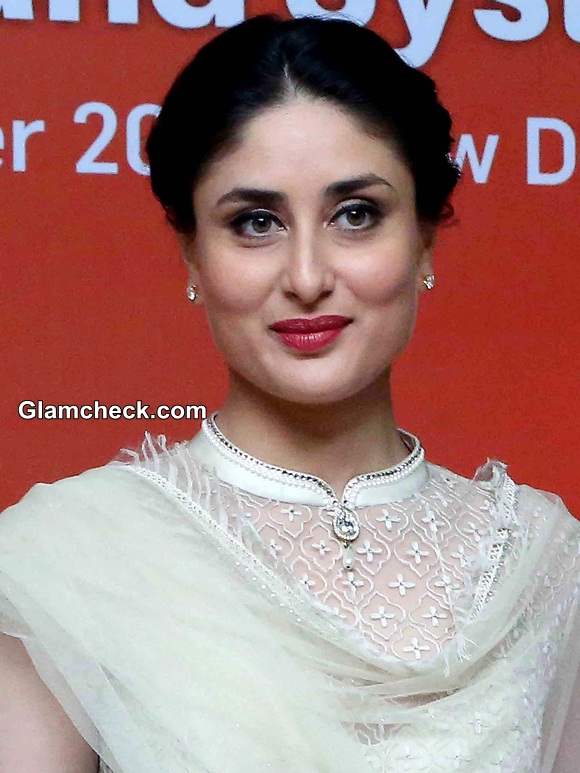 Kareena Kapoor 2014 Makeup and Hairstyle
Since you're going an elegant look like Kareena, keep your accessories minimum. Tiny stud earrings and finger rings are all that is required – you're ready for a classy and elegant look.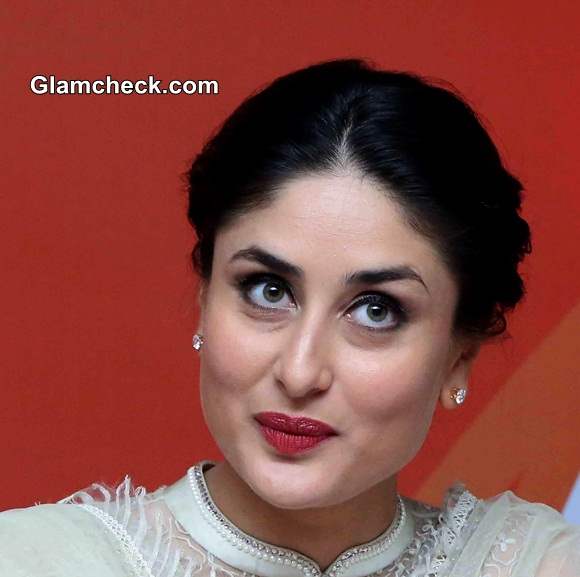 Kareena Kapoor 2014 Makeup maroon lipstick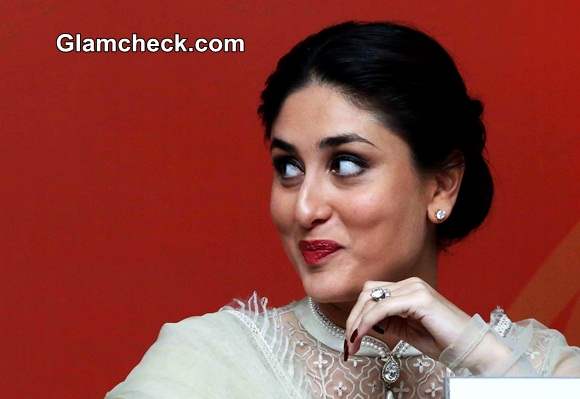 Kareena Kapoor 2014 Pics latest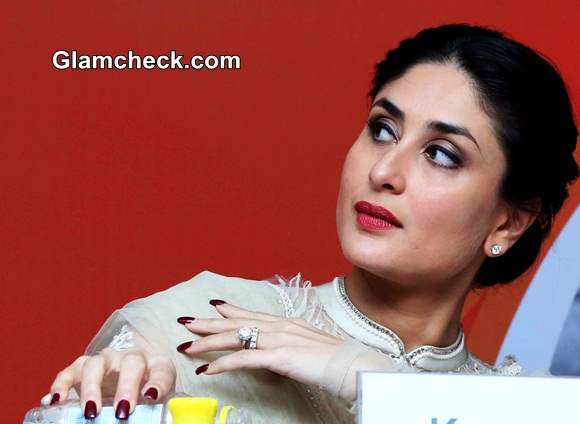 Kareena Kapoor 2014 Pictures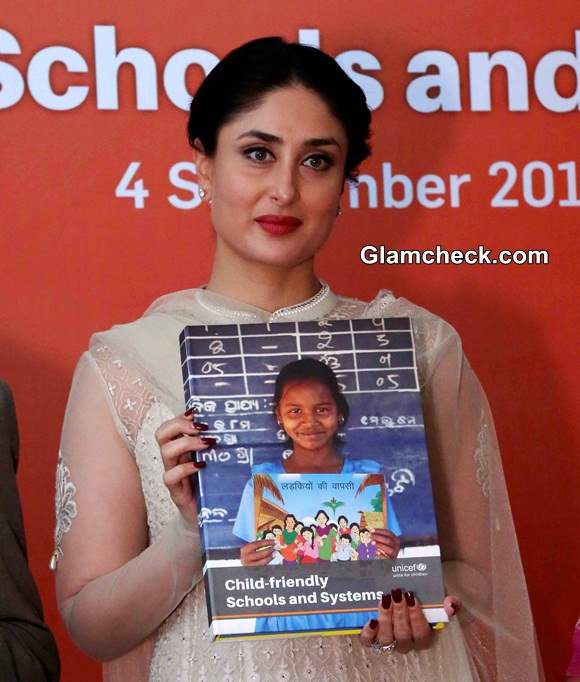 Kareena Kapoor 2014 Pics
Solaris Images