The famed short stories and tales like Charulata and Kabuliwala by Gurudeva Rabindra Tagore (7 May 1861 – 7 August 1941), the legendry Bengali poet, philosopher and novelist will now be brought to India's small screens. Hindi entertainment channel 'Epic' has roped in renowned filmmaker Anurag Basu to recreate the magic of Old Bengal through a series entitled 'Stories by Rabindranath Tagore'.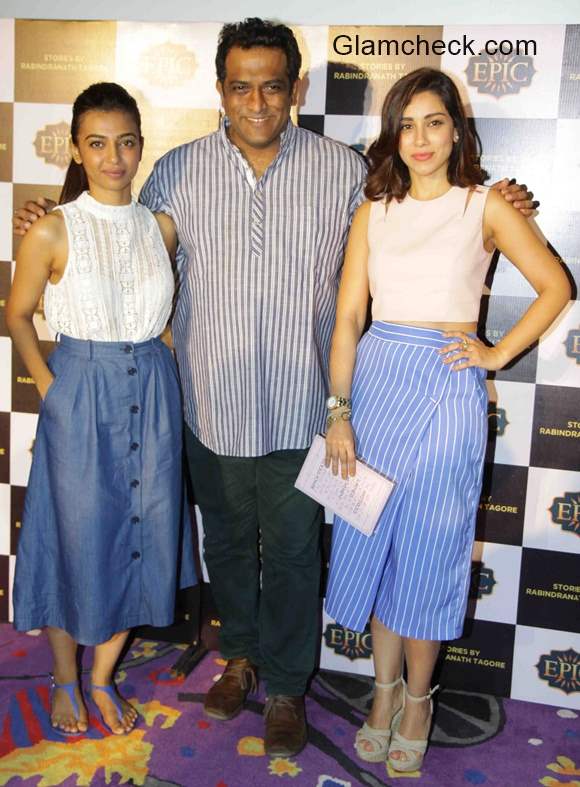 Screening of Stories by Rabindranath Tagore
The screening of this new series was held in Mumbai on June 25th and was attended by Anurag Basu alongside actors Amrita Puri, Radhika Apte and Tara Alisha Berry who have major roles in the series.
Celeb looks from the screening:
Amrita Puri wore crop top and culottes by MADISON onPeddar. She paired the outfit with nude wedge heels to match the color of her blouse. Hair in wavy curls, coral colored lips and a lovely clutch (that she had disclosed was a gift) completed the look. Keeping in view the cool blue color of the culottes, her choices did work well. Amrita has got her styling right on point, she looked fab! Loved it!

Amrita Puri 2015
Radhika Apte also went for an identical outfit choice – a white lacy blouse and denim midi skirt. She pulled her hair into a high ponytail and went for neutral make-up. This looked could easily have worked but Radhika's choice of footwear somehow killed it. Heavier midi skirts as such need slightly higher heels, even a pair of comfortable wedge heels would be a good complement. And instead of the nude make-up palette, hints of color, perhaps pink or tangerine on the lips, would have been a lovely complement.

Radhika Apte 2015
Meanwhile Tara Alisha Berry kept her look summer fresh in a mint colored lace dress styled with a pretty headband and simple strap sandals. Lovely! She looked effortlessly pretty!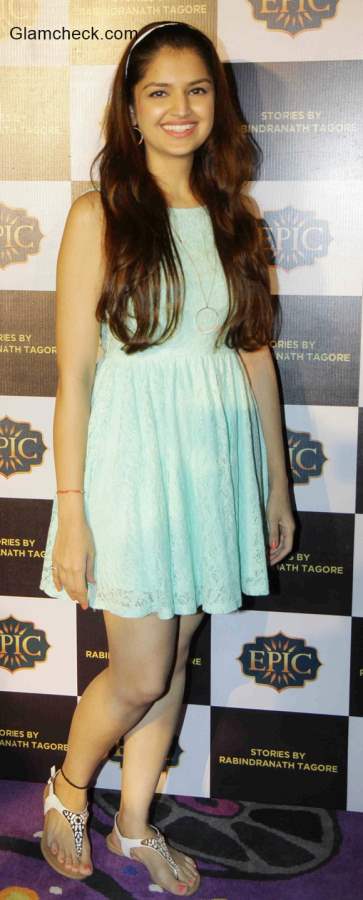 Tara Alisha Berry
About 'Stories by Rabindranath Tagore':
The first look of the series was thoughtfully launched on 9th May, the birth day of Rabindranath Tagore. Audiences had given overwhelming positive response to the trailer and in fact, Epic channel disclosed that the idea to recreate the stories (by famous Indian authors) into television series came from the viewer's feedbacks.
Mahesh Samat, founder and MD of Epic, said that he has always been a big admirer of Gurudev Tagore and his works. After discussion with Anurag Basu, they found the perfect synergy and passion to recreate Tagore's beautiful stories for Epic television. Actually, Mr. Samat, informed that he had wanted to do that since the past 10 years.
In the series, Anurag has retained the original style of the poet's narrative but chose to include a little more of the present political and social scenarios. The personalities have been given a more modern rebellious approach while delving deeper into the society through references of music, song and cultural significances.
'Stories by Rabindranath Tagore' has 26 episodes and is scheduled to hit Indian television in July next month.
Solaris Images