Indian women are blessed with gorgeous skin tone that is not only versatile but, also radiant. The olive tone that leans toward brown can carry off any colour with élan. Indians have such varied skin tones that they can flaunt bold and bright hues like none other.
We are a lucky nation I must say, to wear all that bright, accentuating colours that we love.
Fuschia Pink: The Global Indian Colour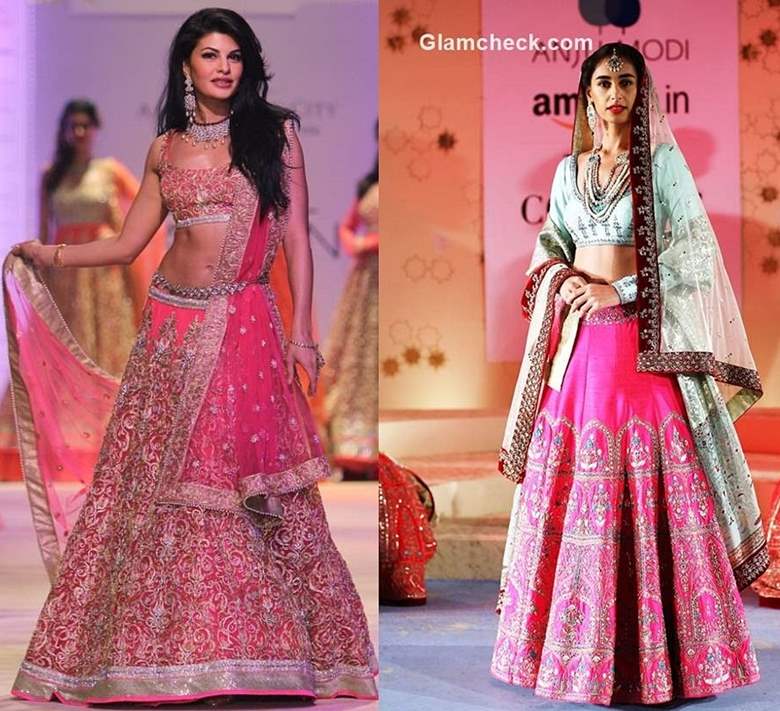 Colours for the Indian Skin Tone – Fuschia Pink
The colour that has inherently served to flush the Indian skin since ages is Fuschia or Rani pink. It brightens the face and gives you glow. A fuchsia or rani pink sari will flatter your skin. The experts have the same view as us.
Sport a fuschia knee-length dress, a sari or any other outfit and be carefree about your look with this vibrant colour.
How to Wear Fuschia Pink
Fuschia can be worn with neutral shades like white and black, avoid grey as it does not accentuate the hue on your skin.
Wear a fuschia top and pair it with a pair of white skinny denims

You can also wear an embellished fuschia sari or a traditional fuschia kurta paired with a neutral churidar

Go for fuschia accessories if you in no mood to carry the colour on your body. Co-ordinate your outfit with a pair of fuchsia pumps and a fuschia satin clutch for an evening out
Burgundy: Rich and Inspiring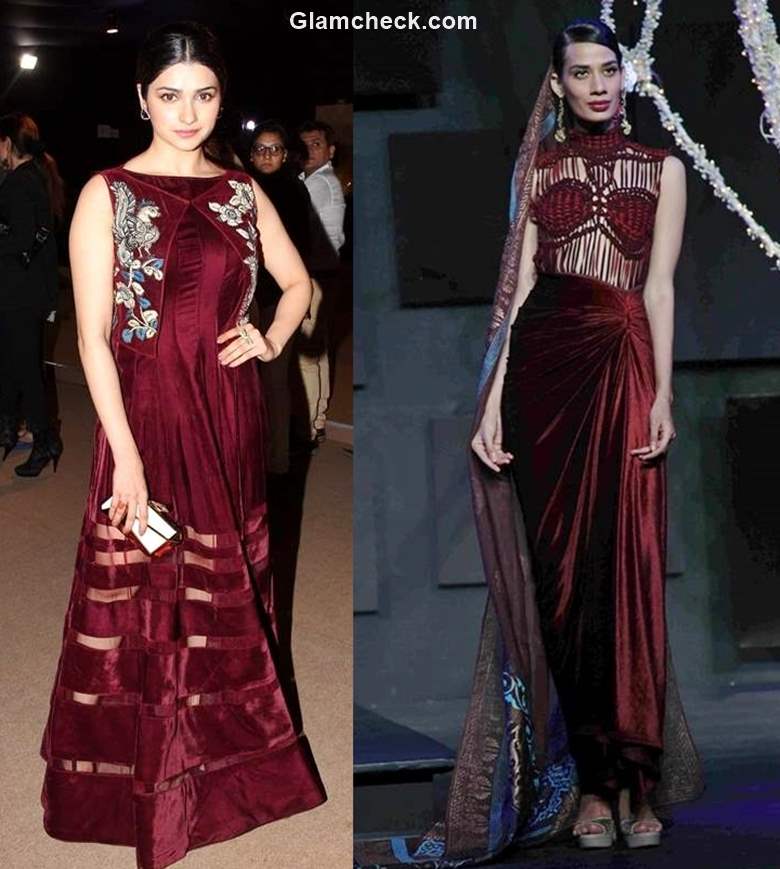 Burgundy color for Indian Skin Tone
It has emerged as the hottest colour of the Fall and, this is exactly the colour to sport on your dusky skin. This hot colour of the season has found its place on the catwalks of Paris, Milan, New York and London. We are extremely excited to bring forward the good news to you, Burgundy works best on Indian skin.
Sport this colour on your Fall trench, pullover or baroque trousers, the colour is here to stay.
How to Wear Burgundy
Burgundy, Bordeaux, wine or Ox-blood are all names of the same hue. It is a shade of deep red which when worn by Indian women accentuates their natural skin tone. This is another colour that we recommend to you for fall.
Pair your burgundy blazer with black denims

You can also wear a burgundy pullover over a white shirt and look casual cool

Dare to look different, then pair your burgundy top or jacket with a forest green baroque trouser and flaunt your style

Wear this colour in the form of accessories as well. A nice knee-length burgundy boot or wedge-sneakers will do good to your fall wardrobe. You should also add some cool leather hand bags from Vuitton in the hue
Off-White: The Colour of Elegance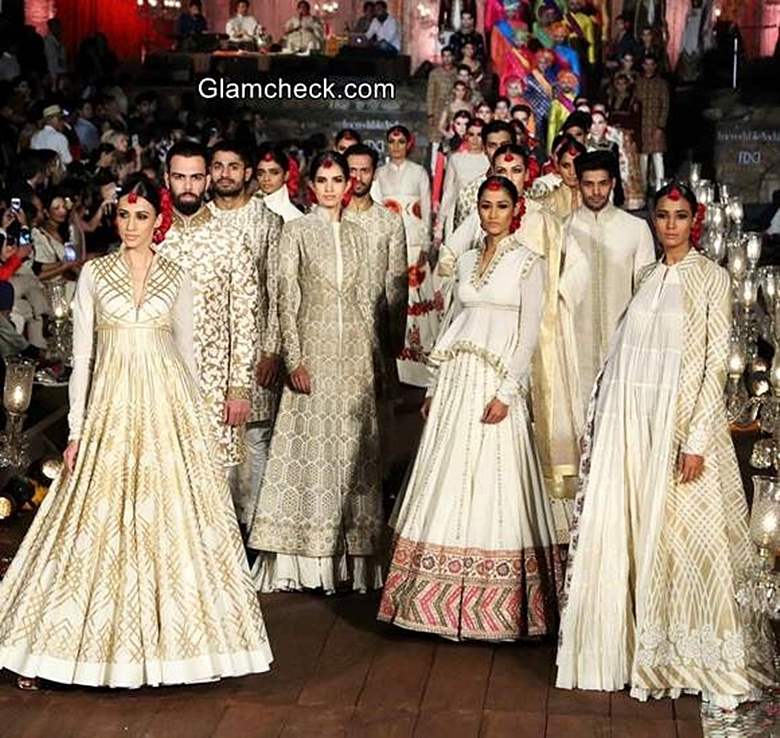 Off white color for Indian skin tone
The subtle hue is created for elegance and may we take the liberty of saying that this colour suits the Indian skin in the most beautiful way. The subtlety associated with off-white highlights the olive skins and makes for a fine wear for an evening or a day.
Sport the colour in traditional kurtas or go for tops paired with black denims or trousers. This hue will not disappoint you.
How to Wear Off-White
An off-shoulder peasant blouse in off-white can be paired with black skirt and pumps

You can also pull this colour off by wearing a lovely short dress and burgundy heels

Go traditional by wearing an ornate off-white kurta with hints of colour on the borders. It looks dramatic and is spotted on stars more often than not

Wear this colour in accessories like a hat, strands of pearls and bracelets
White: Neutral & Classic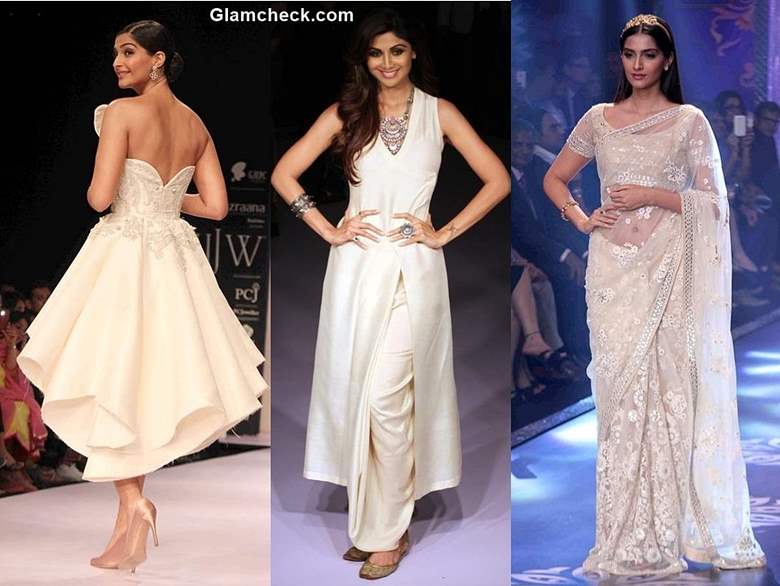 white color for Indian skin tone
White is such a classic colour that it never goes out of style. This Winter is all about a flush of white on the runway. With an overdose of brights and neons, it is time to take out your whites and cleanse the wardrobe. The Indian skin flushes with the touch of white. It is another reason to borrow this colour for yourself this winter.
Sport this colour in your winter wardrobe. Chunky or sheer, knits in white are in vogue this Winter. This colour progresses to the next Spring season too with designers like Tom Ford, Balmain, Gucci, Alexander Wang, Isabel Marant, Calvin Klein and so on carrying the hue to the runways.
How to Wear White
Classic white can be paired with anything and everything. Wear a white winter jacket with asymmetrical zip detailing and team it with a black denim to sport a monochromatic look

You can also pair a white denim with a bright top and chic white blazer or a casual white jacket

A sheer knit blouse with black denims and burgundy wedge sneakers will take you forward in style
The Warmer Shades: Yellow, Gold, Coral, Brick, Red
Warm colors for Indian skin tone
Warm always excites Indian skin tones. It does not matter whether you are wheatish or brown, this range of colour glorifies your skin like none other. The hues like yellow, brick-red, orange, coral and red look beautiful on Indian women. The indigenous golden tint lets these warm shades flatter you.
Sport these colours on traditional events as well as on a bright sunny day. You will always feel good in the set of colours reported to you.
How to Wear These Colours
Wear a bright red short dress with heels

Go for a brick-red pleated shirt dress with skinny white or black denims

You can also opt for a gold sequin dress or jacket for a night out

Coral can be your staple day wear. Pair your coral peplum dress with edgy bracelets and chain strap purse

A bright happy yellow top can be your pick of the day for a Sunday brunch. Wear it with white denims and beige pumps
After all these tips I would like to add that the versatile Indian skin tone looks good in just every colour. Although, I am not really sure about grey and taupe. Cool colours like blue, purple and aubergines flatter many Olive skinned Indians.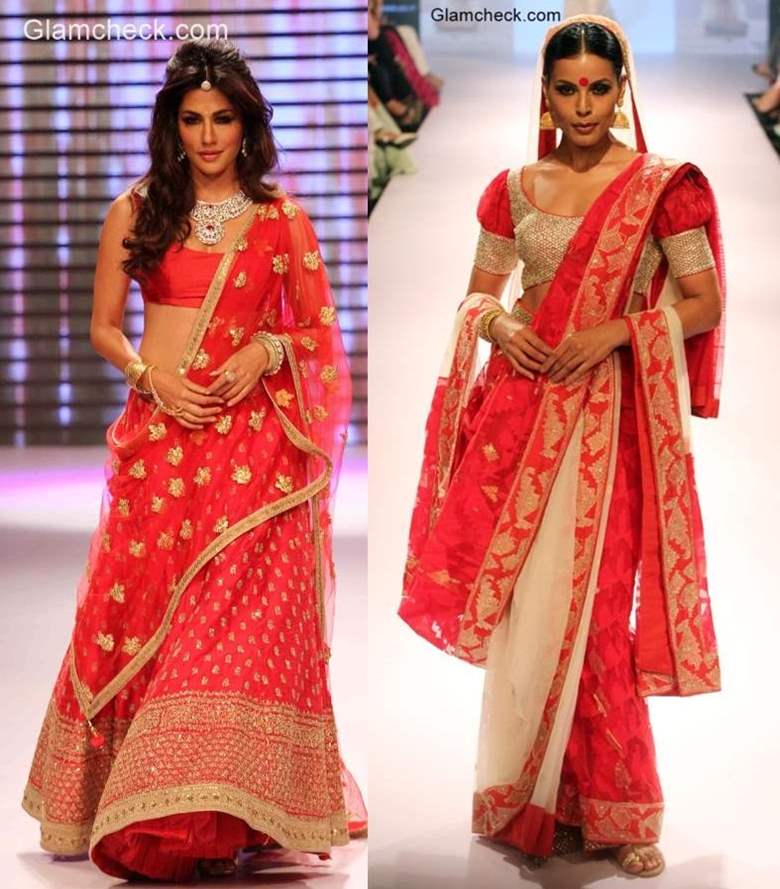 colors for Indian skin tone
Tip: No matter what's the colour of the season, you will look eternally beautiful in golden tones. Bright colours or classic ones, Indian skin tone suits all.
We Indians are a very lucky lot; we can wear just any hue and flatter ourselves with it. We celebrate colour in our culture and the best way to do it is flaunt it on us.