You don't have to wait till Independence Day comes around to show your love for the Indian tri-color. Maybe you can't hoist the flag in your backyard, but you can render those cheerful colours into your clothes all year round.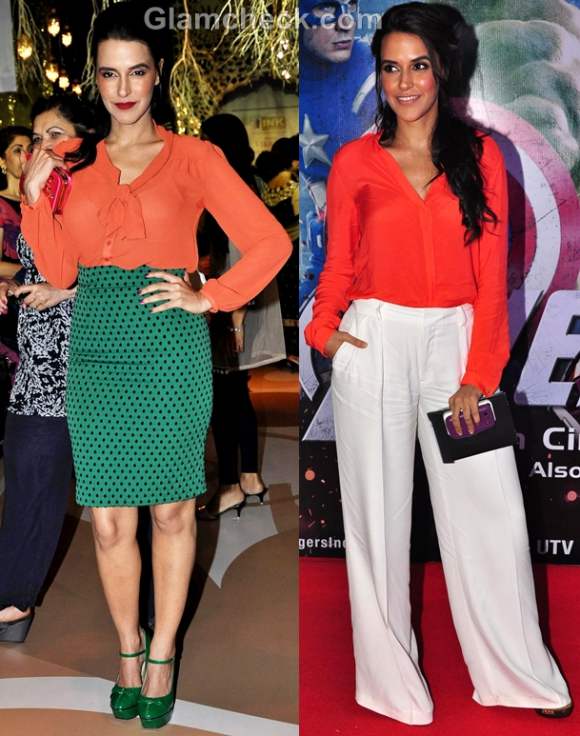 Bollywood actress Neha Dhupia shows us how.
Color blocking it the tri-color way
Her first tri-color look has a bit of retro, a bit of New-York-working-girl, and plenty of oomph.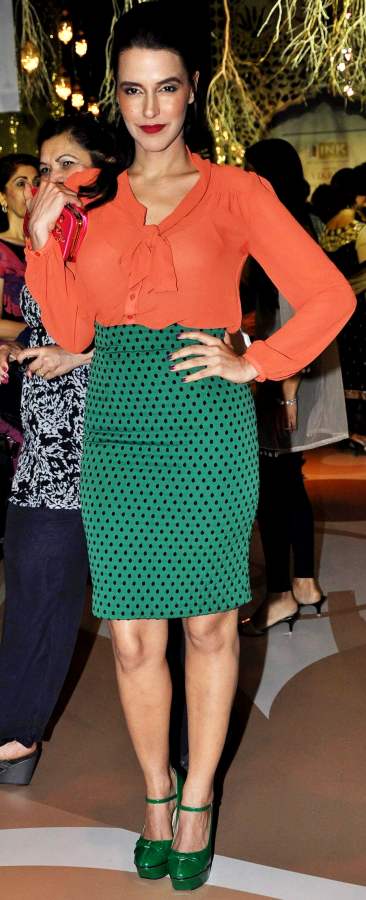 Neha wore an orange blouse with tie-up detailing on the neckline paired with a high-waist green skirt with little black polka dots. Her accessories are loud and sassy – shiny green ankle-strap stacked heels and a pink clutch purse with gold detailing. Orange blush and bold red lips completed her ensemble.
Easygoing yet elegant
The second tri-color look is a little more laidback and comfortable, but that in no way implies a lack of sophistication.

For this one, she slipped into a full-sleeved, loose-fitting, front-buttoned orange shirt which she paired with wide-legged, white khaki pants. A simple black clutch purse was her only accessory.
How to Achieve the Look
Sporting the tri-color look is easy! You already have a color palette set out for you so there's no 'will this match with this' or 'what color would go with that'. The look almost makes itself for you. All you have to do is own it.
Get an orange shirt and pair it with white jeans, a white skirt or any other white bottoms that you have in your wardrobe. You can even switch the order, sporting orange or green bottoms and a white shirt instead.
Your accessories are a great way to get those tri-colors in too. Stoles, shawls, dupattas, hats, shoes, jackets and scarves in orange, white or green allow you accessorize like a pro and be patriotic at the same time. 
Image: Indian Photo Agency