Navratri celebrations are on everywhere and the celebs cannot be far behind. Sanjay Dutt hosted Maata Ki Chowki at his residence in Bandra and celebs poured in to celebrate with him.
Shilpa Shetty arrived at the event wearing a red and white ox-printed Masaba Gupta sari.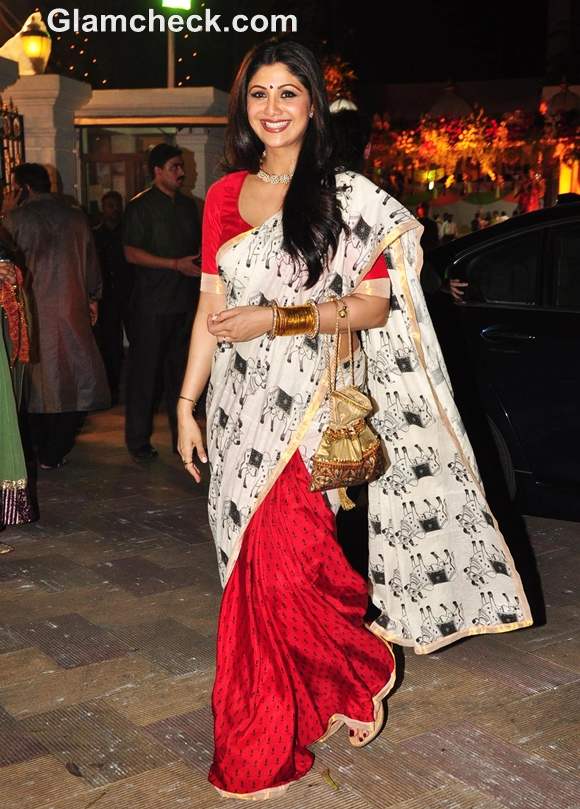 Shilpa Shetty at Maata Ki Chowki celebrations at Sanjay Dutt's home
She carried an embellished potli bag on her forearm. The gold bangles and a choker adorned her left wrist and neck. Crimson was the colour for her bindi, pout and nails. The look was very traditional and apt for the event.
Prachi Desai looked chic in a Rahul Mishra bandhgala paired with French Connection clutch and killer heels.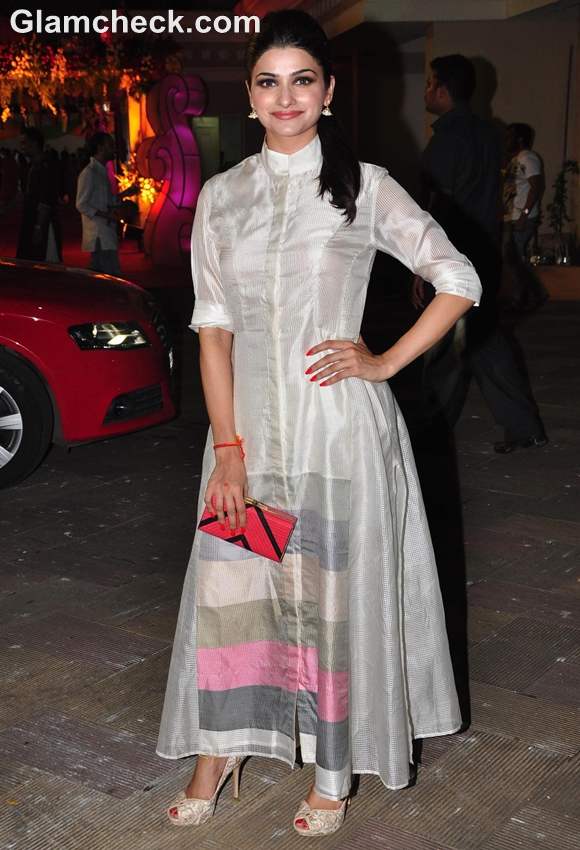 Prachi Desai at Maata Ki Chowki Celebrations at Sanjay Dutt's home
We especially liked the heels which were paired with this ensemble. The bright scarlet nails and sexy pout uplifted her look. The puffed up sleek ponytail did wonders to her face. The skin was strikingly clear with a pair of dazzling jhumkas adding to the traditional elements of her look. We could see a hint of a gold anklet peeping out of the outfit. So cool! We wonder how Prachi manages to look so chic time and again!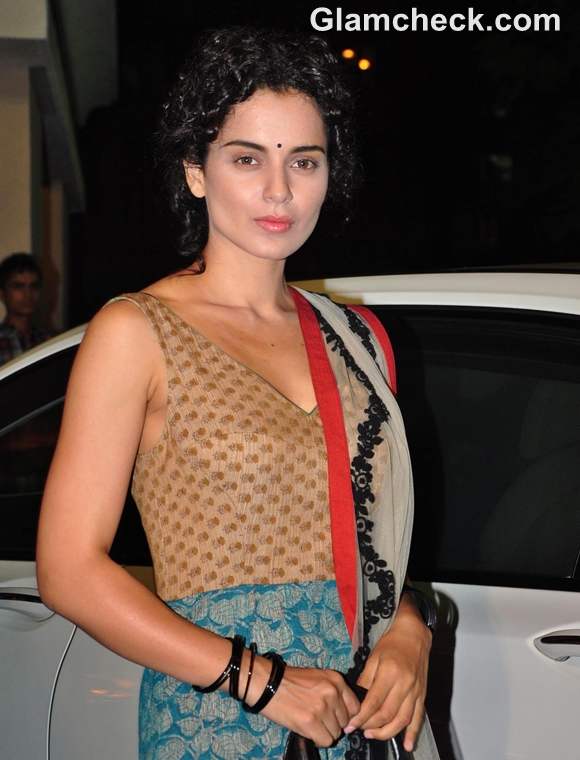 Kangana Ranaut at Maata Ki Chowki Celebrations at Sanjay Dutt's home
Kangana Ranaut was spotted in a V-neck leaf-printed Sabyasachi kurta in blue and beige paired with black bangles and sheer dupatta with a red border.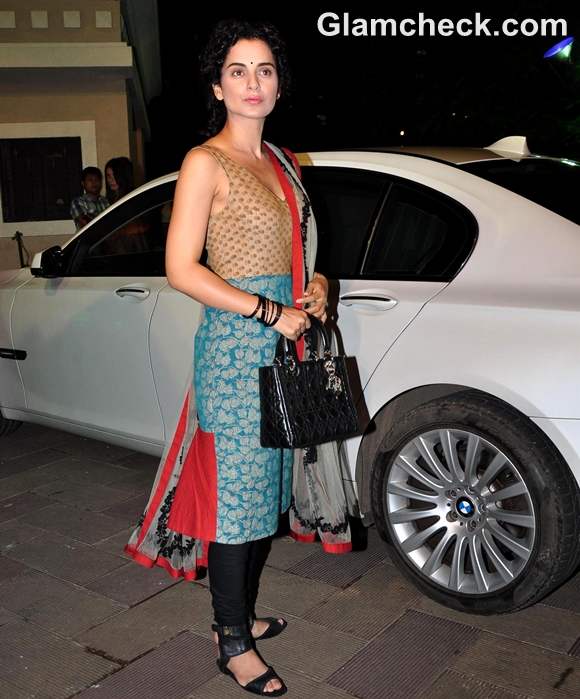 Kangana Ranaut at Maata Ki Chowki Sanjay Dutt home
She sported a tiny black bindi and a pink pout. Her curly locks exuded sheen and looked gorgeous. She brought freshness to the event.
We spotted Jaya Bachchan in a red salwar kameez with gold border and gold sandals.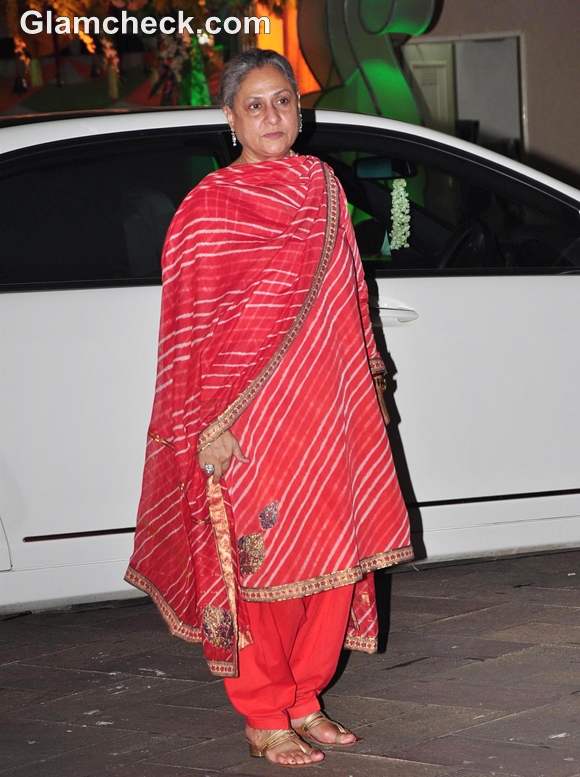 The color suits her and we would love to see her in this vibrant colour once in a while.
Raveena Tandon attended the festivity in a beige and gold full-sleeved kurti.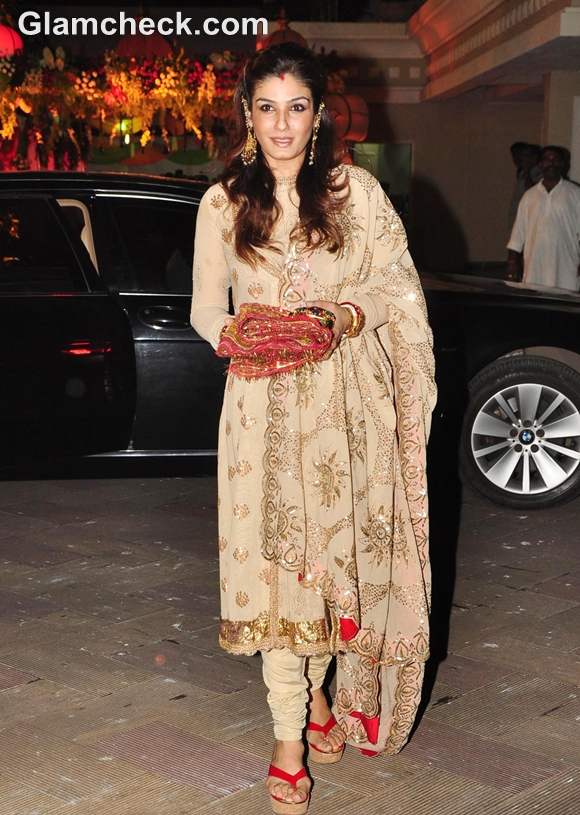 Raveena Tandon at Maata Ki Chowki by Sanjay Dutt 
Gold statement earrings adorned her ears. Her hair was clutched back and strands were brought to the front. She also sported beautiful gold bangles on her wrist.
The generous hosts, Maanyata and Sanjay Dutt smiled away with two little angels on their arms.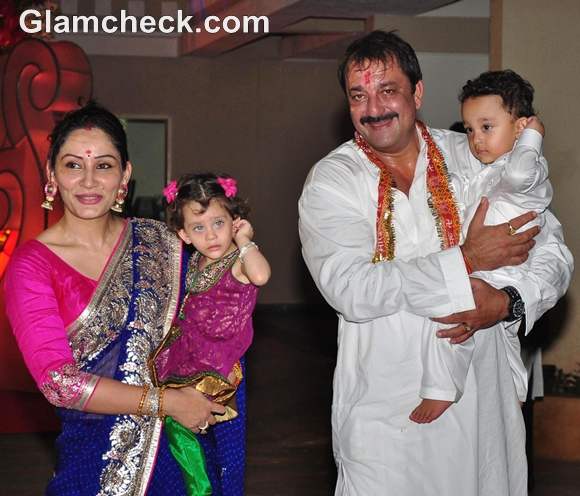 Sanjay Dutt &  Maanyata host Maata ki Chowki Navratri 2012
The two handsome men wore white kurta-pyjama while, Maanyata wore a beautiful blue sari with a fuchsia blouse. Big jhumkas adorned her ears and she paired them with diamond and gold bangles. The lovely blue-eyed daughter of Sanjay Dutt wore a striking purple and green salwar kurta paired with pretty pink lily rubber bands. How cute!
Indian Photo Agency