Fashion designer Vikram Phadnis roped in Bollywood actor Mugdha Godse to display one of the most beautiful creations from his collection at the Hotel Renaissance Bridal Couture Show held in Mumbai, India on September 01, 2013.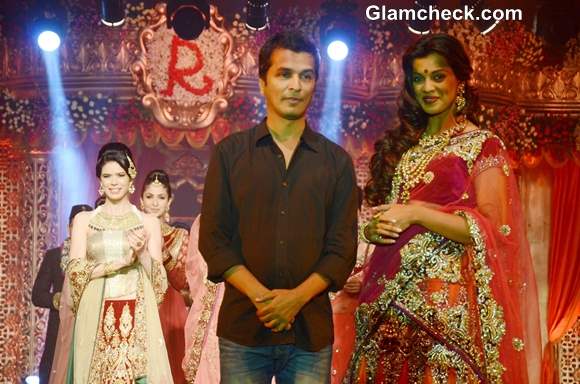 Mugdha Godse Show-stopper for Vikram Phadnis Bridal Couture Collection 2013
Sexy, Bold and Gold
All of the outfits in Vikram's collection were fashioned from traditional Indian fabrics and were close to being saturated with gold embroidery. Mugdha's was no different as it embodied the very elements that defined the rest of the line.
Mugdha Godse at Vikram Phadnis Bridal Couture Collection 2013
Her lehenga was light orange, heavily embellished from hip to floor in gold embroidery. Really, there was so much embroidery that thing had to have weighed several kilos at least. Fortunately, the choli was much lighter, fashioned from plain maroon velvet with daintily embellished short sleeves.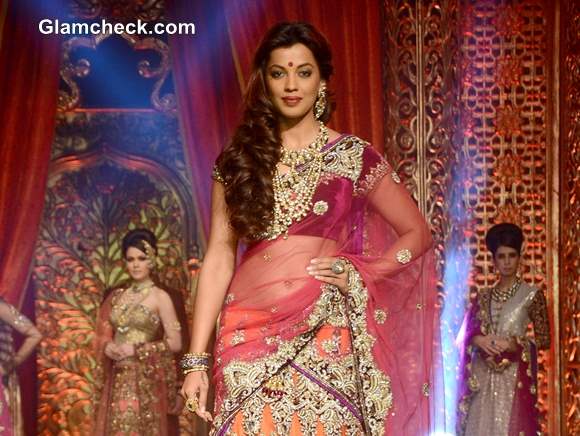 Mugdha Godse Bridal Couture Collection 2013
Even the dupatta, despite being sheer and, we would imagine, made of a very light fabric, was dripping with heavy gold embroidery all along the border as well as interspersed across the length of it.
The look was accessorised with gold dangle earrings inset with diamonds and a matching ethnic necklace and finger ring.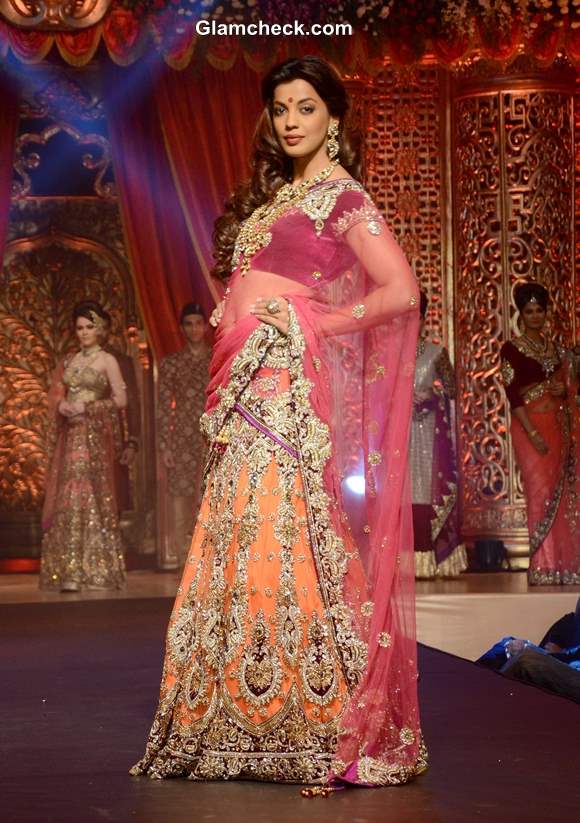 Mugdha Godse at 2013 Vikram Phadnis Bridal Couture Collection
Fusion Hair & Makeup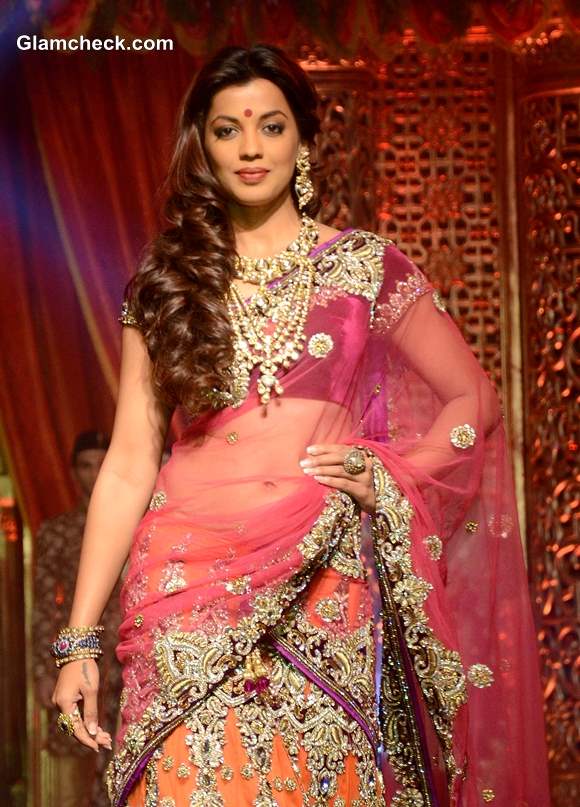 Mugdha Godse 2013 Vikram Phadnis Bridal Couture Collection
The styling of Mugdha's look could not have been said to be entirely ethnic, but it was not totally Western either. There was a contemporary feel about her rich side-swept curls, a do that suits her tremendously because of how great curls look on her but also because of how nicely it complements the bridal ensemble.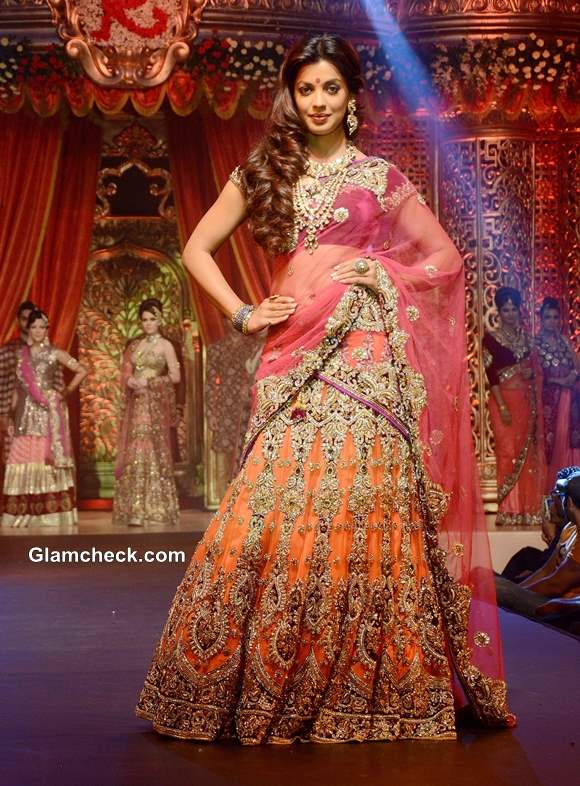 Mugdha Godse in Vikram Phadnis Bridal Lehenga at Bridal Couture 2013
A deep plum lippie and lightly-lined peepers balanced each other out while her large red bindi definitely got the most attention.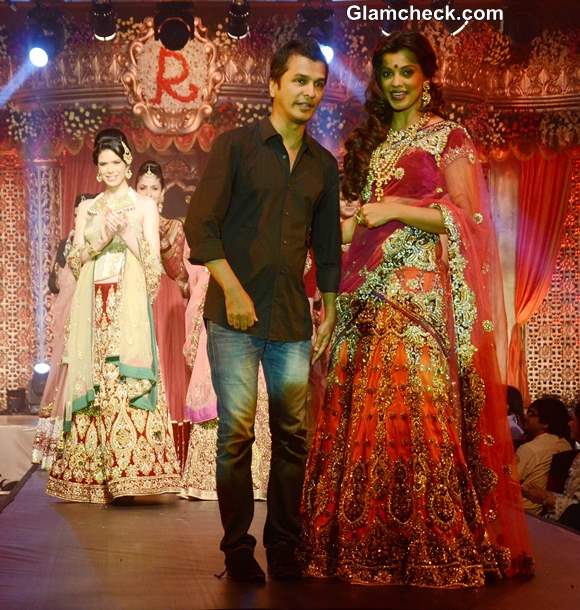 Mugdha Godse for Vikram Phadnis Bridal Couture Collection 2013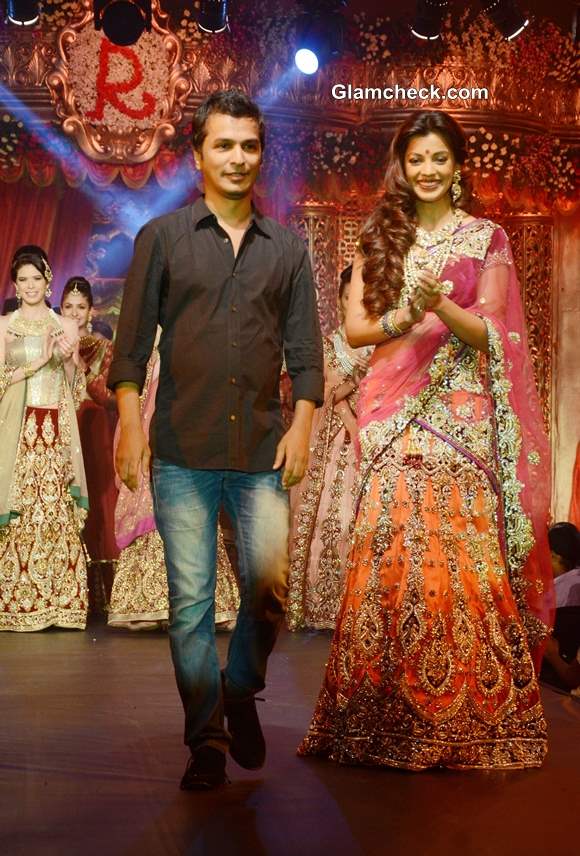 Mugdha Godse Show-stopper Vikram Phadnis Bridal Couture Collection 2013
Solaris Images