It was a look we had not quite spotted Shruti Haasan in; you'll agree that usual her style has more of a rocker chic edge. Thus it was quite a gentle surprise for us when Shruti, in a gorgeous two piece gown by Shehla Khan, transformed herself into an ethereal beauty.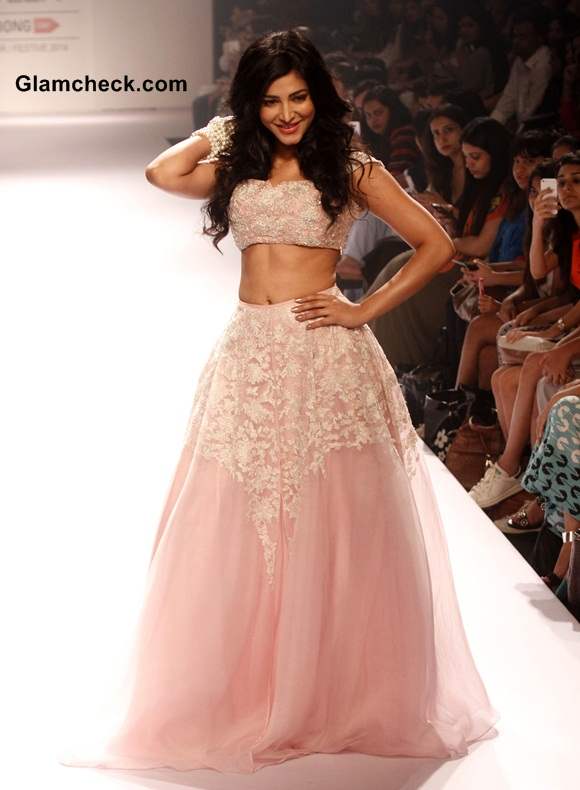 Shruti Haasan for Shehla Khan at LFW Winter Festive 2014
She glided down the ramp wearing a soft pink floor length skirt and matching crop top. The skirt was styled to look like a gown and was giving a sheer finish. Both the top and the skirt were given just a hint of delicate silver lace work detailing, giving it an otherworldly beautiful look.  The gorgeous attire indeed didn't require any accessories; the only accessory used on the beautiful Shruti Haasan were strings of delicate white pearls styled to look like a set of bangles.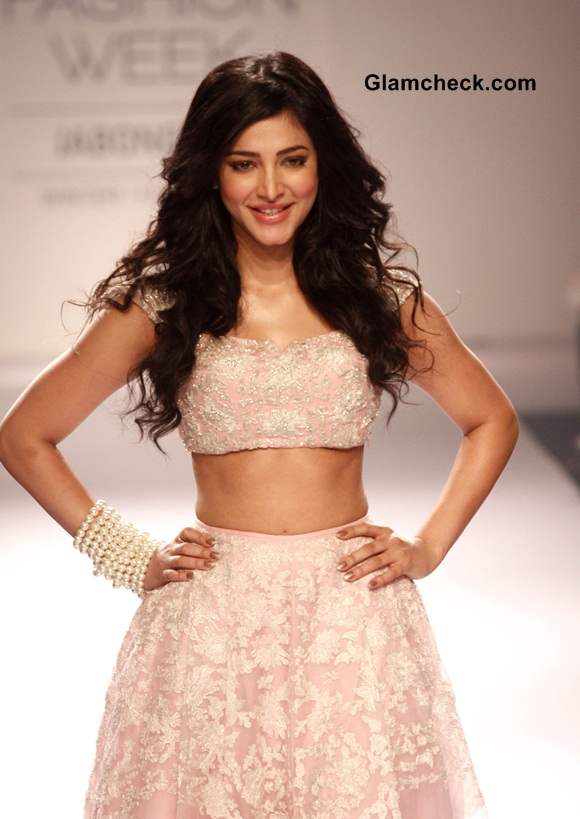 Shruti Haasan at LFW Winter Festive 2014 for Shehla Khan
Her makeup was given a natural finish and her hair left loose in carefree curls. As she walked down the ramp, she looked in every inch, a fairy princess wandering down the woods.
Shehla Khan's collection featured gowns, skirts and dresses which looked like a blend between western and Indian designs. Even the ensemble worn by Shruti Haasan seemed like a blend between a European gown and an Indian Lehenga choli. The delicate designs had soft and light floral hues as the central color theme.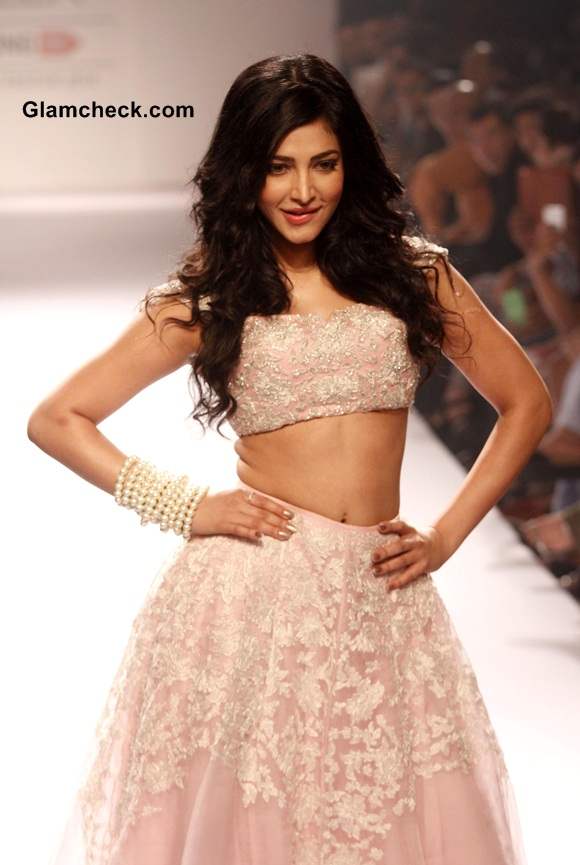 Shruti Haasan 2014
Says Shruti, "This is not my colour. I don't wear pink, but this outfit is amazing. It makes me feel so feminine. I am feeling like a Victorian princess in this attire".
Yes, she's proven she can carry off any look with aplomb.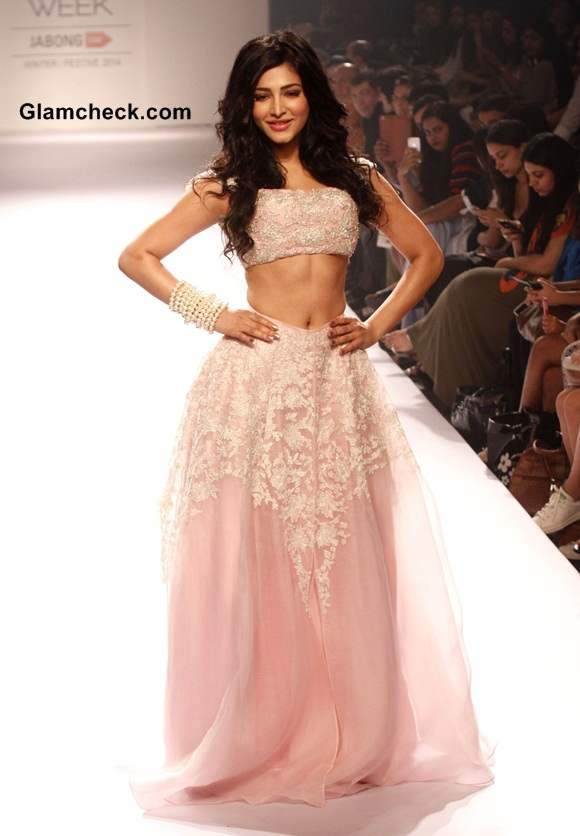 LFW Winter Festive 2014 Shruti Haasan for Shehla Khan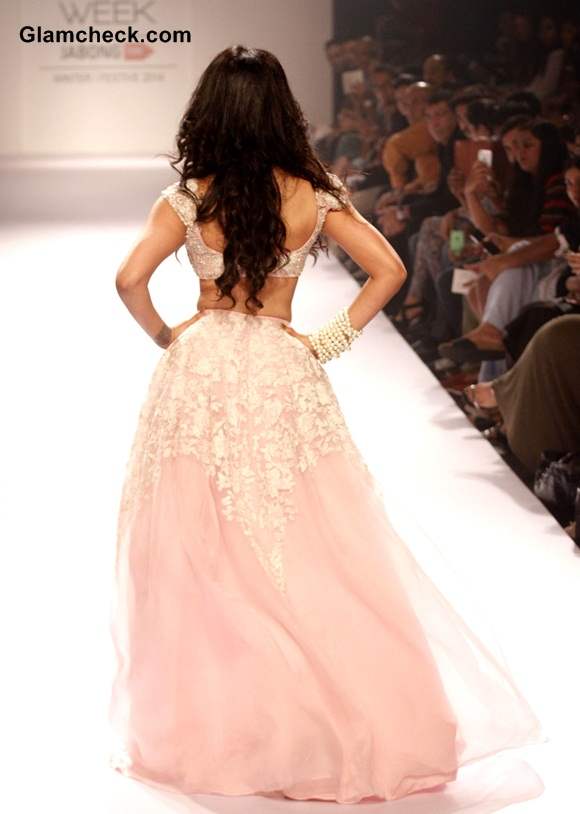 LFW Winter Festive 2014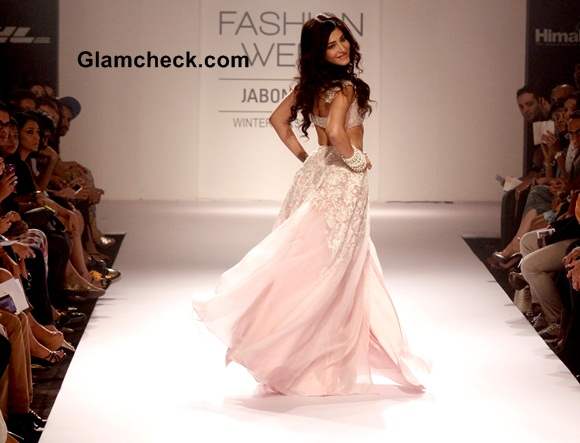 LFW Winter Festive 2014 Shruti Haasan
Solaris Images