Hello everyone, today I welcome you all as I get ready for a Dandiya Night. Dandiya nights take place all over the country during auspicious Indian Festival – Navratri and is celebrated with a lot of revelry  and merriment 
Dandiya is an Indian form of dance which uses two decorated sticks, that are beaten together rhythmically to create steps.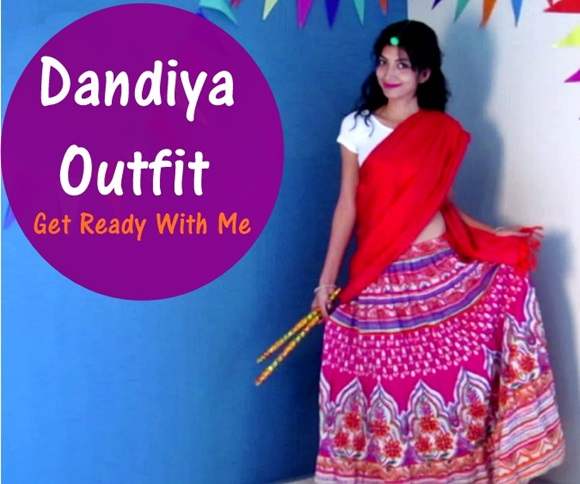 Dandiya Clothes – Outfit
My look for the day is playful and vibrant, with a lot of pink, green, orange, purple and white. Plus, I have an entire series of easy tips and tricks to help you showcase your best Dandiya ensemble too, without spending big bucks. So, let's get started!
Indian Youtuber Sarita Upadhyay – DANDIYA Look
Makeup For Dandiya Dance Night
I'll start with my makeup for which I decided to work the look around pink. After having done my base makeup, I filled in the eyebrows to give them more definition.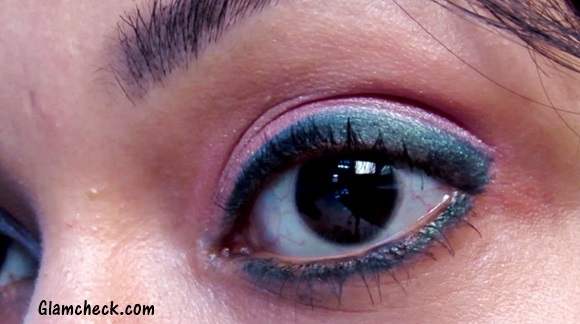 Pink Eye Makeup
I then used white eye shadow on the inner corners of my eyelid, as well as along the brow bone to make the eyes look brighter and bigger. and filled my upper eyelid area with pink glitter eye shadow. Next, I used green eyeliner to make a broad line running along the upper eyelash line and along my lower eyelash line too. I used black eyeliner on top of the green eyeliner, on both the upper and lower lash line, to accentuate the eyes further. I A few coats of mascara opened up my eyes further. I finished my makeup by applying a pretty shade of pink lipstick.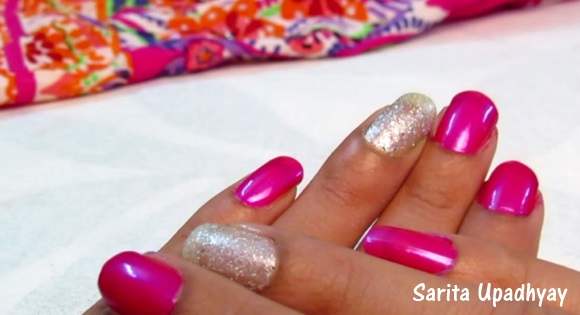 Pink Nail Art
My manicure focused on pink too, where I painted all my nails in this shade, except the nails of my ring fingers – for which I chose a silver glittery nail polish to give a zingy touch.
Hairstyle For Dandiya Dance Night
For my hair, I went for an easy hairstyle where I took a few strands of hair from both sides of my head and pinned at the back, right in the centre.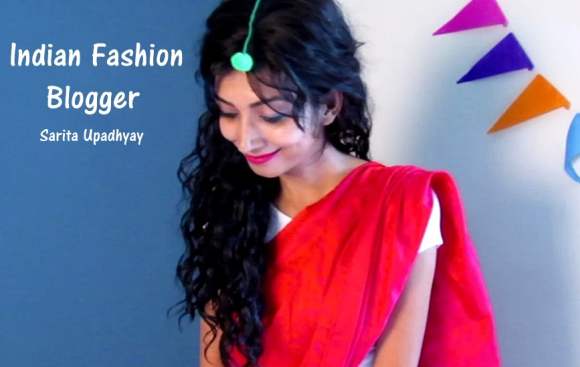 Indian Fashion Blogger
Dandiya Outfit

Moving on to the outfit, The main focus of my dandiya outfit was creating a mix and match look from what I already had in my closet. The first piece of clothing that I chose was my favorite white crop top from Zara. The next focal and main point of my attire was the maxi skirt from Sanskruti that I used. This multicolored beauty is a perfect wear for festivities, and pairing it with white, opened up its look more – pronouncing its vibrancy. The last piece of my outfit was an orange and pink shaded silk stole that I got from Neerus Silk. I draped it in pallu style by tucking in one end on the left side of my skirt, putting it around the hips and then resting it on my left shoulder in the saree style. So, three items of unrelated clothing were paired to make a beautiful getup, which I feel captured the essence of a dandiya night as well as navratris quite nicely.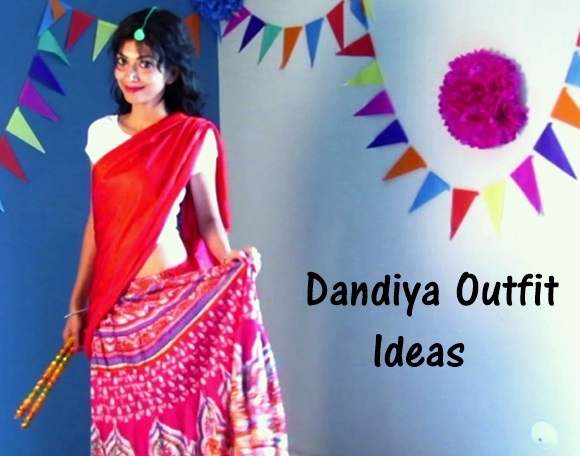 Dandiya Outfit – Indian Clothes
I believe dressing up should not only be about buying entire new sets of clothes, but using existing items to create new looks as well as infusing your own style. You can create your very own dandiya look by pairing a Rajasthani or printed skirt or even a lehenga  with a solid colored top and a dupatta of your choice. Keep the combination fun and playful, or anything that is close to your personality.
Accessories for Dandiya
My accessories for the look are simple. I like maang tikas and I decided to make my own using a green pom pom. To make it, all you need is a green pom pom and a green yarn or a fabric strip.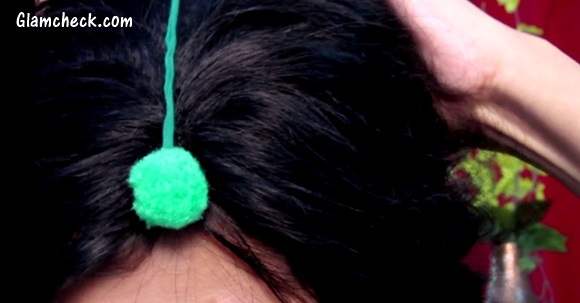 Pom Pom Accessories DIY maang tika
Glue both of them together, and you have a brand new accessory – it is as simple as that! I fixed the pom pom maang tikka on my head by placing it in the middle and used a bobby pin at the back to hold it in place.
I added a pair of pair of silver and rhinestone bangles and my dandiya sticks, and I was ready to dance away the night!
DIY Home Décor
For those of you who want to hold a dandiya themed party at home, you can use the décor that you see at the background of my video. It is easy to do and instantly adds jazz. You can replicate the look with streamers, running flags and artificial flowers all of which can be easily bought or made by you at home itself.
So ladies (and gentlemen, in case any of you are watching too) this is my look for a dandiya night, which also allows me easy movement for all the dancing that I shall be doing.
I hope you had as much fun watching this video as I had making it. Rate this video with a thumbs up, leave me a comment and Subscribe my channel to catch my future viedeos. Wishing you all a very Happy Navratri and Dandiya, now go get some dandiya sticks!