We loved Bollywood actress Aditi Rao Hydari's makeup as she launched Vivel's new skin care solution in Mumbai.
Spring-time Beauty Look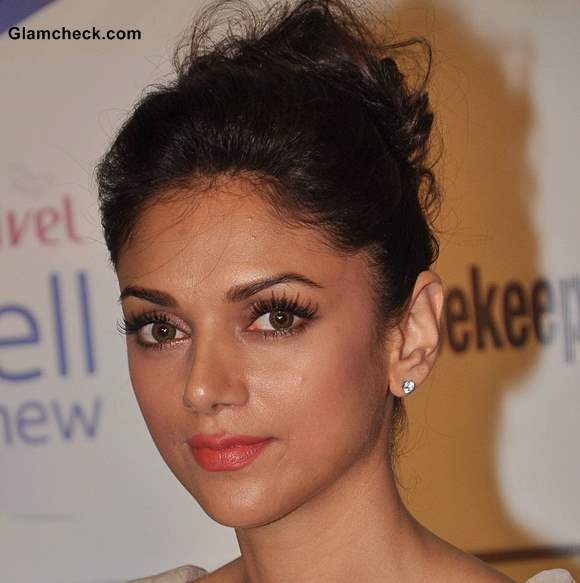 Aditi Rao Hydari's Makeup – Fresh & Dewy
You can't help but be captivated by Aditi's face! Her eyes are a thing of wonder. Speckled hazel, they are made even more magical by her perfectly curled lashes which give her a luminous vibe. The peachy eye-shadow and hazel liner add magical finishing touches.
Her barely-there blush appears to be a part of her natural skin tone, just a little flush in her cheeks which makes her glow.
Finally, there is the pop of color with that unmistakably yummy pale orange lippie. Did you know that just like red, there is a shade of orange to suit every skin tone? The main reason the lippie looks so amazing on the young star is because it is the perfect color for her.
Get the Look
This look is so understated that it is one of the most versatile also. You can team it with your running-errands outfits and also with your evening wear.
Prep your skin by applying moisturiser and a foundation for your skin type. If you have oily skin, it helps to apply primer before your foundation. This will prevent you from looking oily mere hours later and will also help your makeup stay on better.
Post-foundation, apply a powder to help your makeup to help it set. Look for one that has luminizing properties. This is what will give your skin that inner glow.
Next, very lightly dust bronzer on the parts of your face where light naturally hits. This means your forehead, cheeks and nose. Don't forget your jaw line too.
Now use a blush brush to lightly but perfectly blend in a peachy blush on the apples of your cheeks.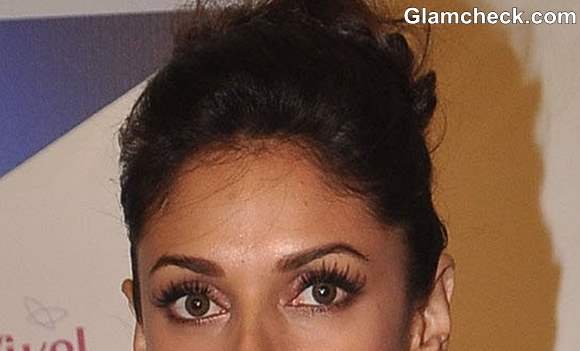 Aditi Rao Hydari – Eye Makeup
The focus of Aditi's makeup is obvious – her perfectly curled eyelashes which make her look unearthly! You can achieve the same look in two ways. If you have naturally long lashes, then all you need is a pair of eyelash curlers and a good brand of mascara with curling properties. However, in case you lack in the eyelash department, then you can resort to fake eyelashes to get the job done. Read here for more on fake lashes.
Apply eye primer so that the eye shadow you apply does not collect in the creases and create a cake-y look.
Next, apply a very light orange eye shadow on the upper eye lid, but do not extend all the way up to your brow line as that will be a bit much for this look. Also swipe the eye shadow under the lower lash line with a liner brush. Alternatively, you can also go with a gold shadow if you're planning to sport his look in the evening.
Apply a hazel or light brown eye liner to your upper lid and lower lash line.
Use an eyelash comb to comb your lashes so that they do not stick together. Then use your eyelash curler, starting at the base (closest to the eyes) and going all the way outward to the ends.
Now it's time for the mascara. The idea is to use mascara which has built-in lengthening properties which will separate, lengthen and thicken your lashes in just one or two swipes. If you have a normal mascara, you may have to swipe it on several times and this can create a thicker look than desired for this particular style. As you can see on Aditi, there is only a very thin layer of mascara which is what gives her such a light look.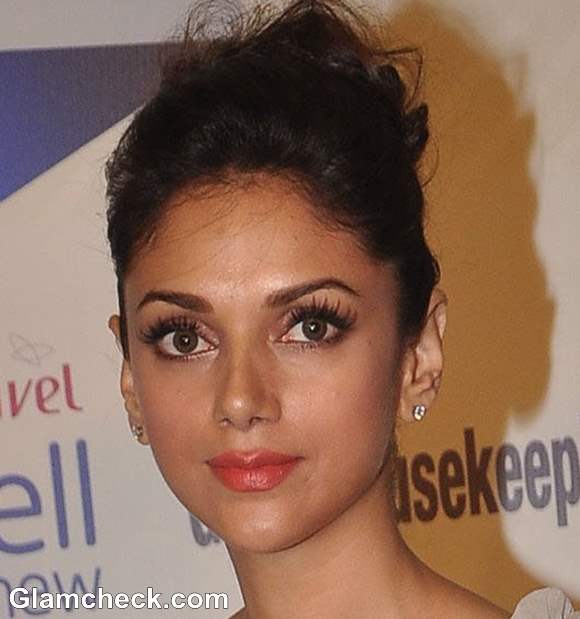 Aditi Rao Hydari 2013 Makeup
Lastly, apply your matt orange lippie and you're done! Just ensure, beforehand of course, that the orange works best for your skin tone.
IANS