Crop tops have never been as huge as they have been this year, and one way of wearing the crop top is to pair them with ankle length denims. It is quite a big celeb trend at the moment.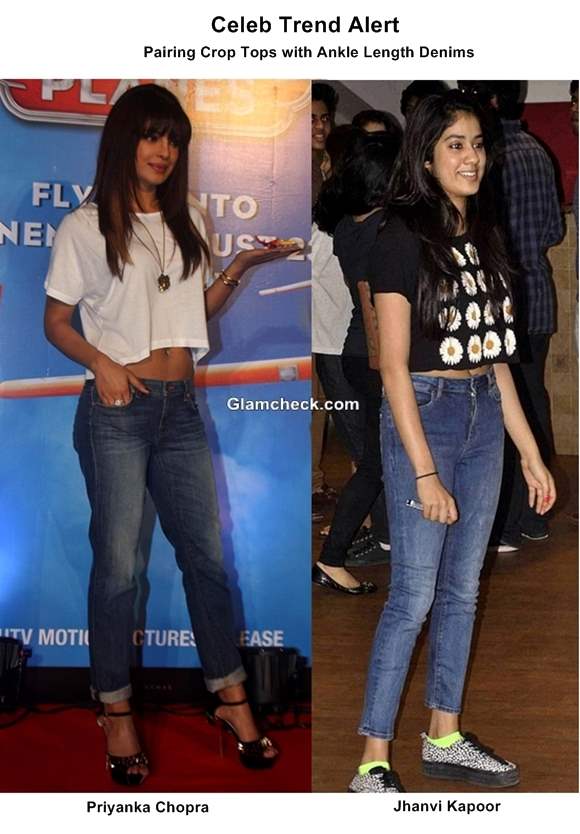 Bollywood Celeb Trend Alert – Pairing Crop Tops with Ankle Length Denims
We spotted two cuties make an appearance in this combo recently – Bollywood superstar Priyanka Chopra and Jhanvi Kapoor who is the daughter of megastar Sridevi.
Priyanka Chopra in a white crop top and stone washed ankle length denims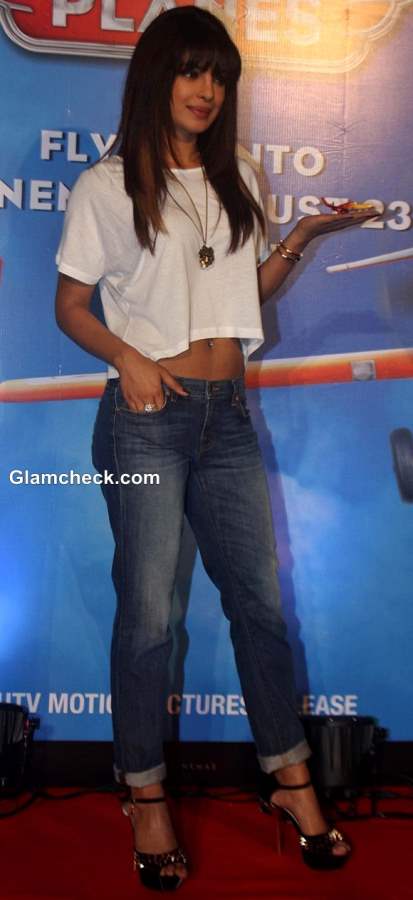 Pairing Crop Tops with Ankle Length Denims Priyanka Chopra
Piggy Chops, as the star is fondly known, paired an oversized white crop top with a stone washed denim which were folded at the ankles. She was seen in this attire at a recent launch for Disney toy characters from the Hollywood film Planes. Spiked stilettos, an attention grabbing pendant and the bang hairstyle gave Ms Chopra an edgy touch.
Jhanvi Kapoor in a black printed crop top and ankle length denims

Pairing Crop Tops with Ankle Length Denims Jhanvi Kapoor
She has still not made an official foray into the world of showbiz and glamor, but owing to her heavy duty parentage Jhanvi is already in the spotlight often. And, she has been making quite a fashionable wave. At a recent function she was seen making a cute statement in her floral print black crop top which she wore with ankle length denims. The yellow socks and funky platform keds added to the teenage look, going perfectly well with young Ms Kapoor's age.
Laura Whitmore has also been seen sporting this particular fashion trend in a slightly different avatar. A lot can be done with crop tops and they can be paired with a wide array of lower wear and do not just have to be restricted to ankle length denims. For more ideas on how to stylize your crop tops head to how to wear crop tops. And, don't forget to check out how celebs are rocking the crop top trend on the red carpet at the moment.  
Image: IANS