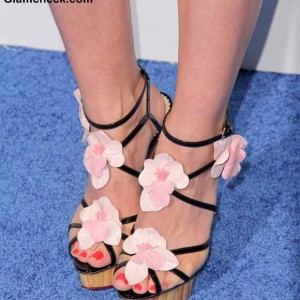 There was a spate of lovely summery footwear at the Disney Media Networks International Upfronts 2013 held at Walt Disney [...]
Celeb Looks

The recent Disney Media Networks International Upfronts 2013 on May 19 saw several lovely ladies of
Clothing

Style Inspiration-  Wearing Black & White Stripes There is a timeless quality about black and

Summers have always held a special place in my heart especially since I love looking out for new

If winter is for layering, summer is to let loose. You can think of taking out all your shorts,

Every year, there are so many winter styles to choose from, that it sometimes becomes difficult to
News

World's richest model Gisele Bundchen has a lucrative project in her kitty.

Luxury cosmetics brand Lancome announced that they would be partnering up with

Miss New York Mallory Hagan is Miss America 2013 The final installment of the
America has geared up for its next beauty ambassador to the world and Planet
Street Style

With summer making its presence felt, you can expect to see a lot of celebs in killer breezy outfits

Celebrity Street Style 2013 - Bai Ling Super Sexy Leather Look Think you can't wear leather in

Laura Govan was spotted in Bel-Air on May 6 in a get-up we're sure will inspire hundreds of women

Celebs have access to the best and latest in fashion which is why they look out of this world at red
Makeup & Beauty

British singer Cheryl Cole looked pretty as ever in her Textured Bun at a recent event. The

It is no news that braided updos are ruling this season; be it celebrities on the red carpet or

One can hardly separate a celebrity from their tattoos, especially in today's world. The trend of
Trends

A wedding dress probably is one of the most important and invested garments of your lifetime. Irrespective of your personal style or taste no one ever believes in compromising their bridal outfits. A

Very fashion show is a communication of a story visualized by the designers. There is a thought, an inspiration and a reason behind every detail that one sees down the runway. Where clothes remain the

We spotted Hollywood actress Milla Jovovich in an androgynous outfit as she attended the Chanel show at Paris Fashion Week Fall/Winter 2013 on March 5. What she wore: Grey pants with white
Lingerie / Swimwear

As spring says goodbye and summer is fast approaching, the beach beckons us to go out and splash in some waves while donning our favorite swimwear.

Watch out Victoria's Secret! Etam is giving stiff competition to the number one lingerie brand with a highly versatile, fun and celeb-filled fashion

With summer fast approaching, the first thing on your shopping lists should be to pick up some great swimwear and get ready to head straight

With the rise in the concept of stylish holidays, the swimwear collections have gained popularity for an integral role that these play. The